Mindset is one of the last true video productions still standing in Switzerland. Rather than leaking everything online, they do it the old school way, saving up their bangers, and building a well crafted movie with it's own aesthetic. So it's not surprising that we were super excited to see the first images from Creamy. We caught up with one of the new guys on the crew, the one and only Lou "Mr. Backflip" Staub, who gave us a some insight on this project. But first, let's check the trailer…
Hey Lou, Creamy is looking pretty damn good! Can you start off by telling us how you got involved in this project?
Last year during a down day in Laax, a friend, Daniel Loosli asked me if I wanted to join him on a filming session for the Crap Attack. Mathias Wittwer (Mindset super brain and boss) was the filmer for those webisodes, so I met him there, but it was already late in the season, so we didn't film anything for Mindset together last year. But at the end of the season he asked me if I wanted to give him some shots so that I could have a little part in their last movie, Mandala. Before the premiere, I met all of the Mindset dudes and they were down to have me in their new movie. So I was fully involved in Creamy from the beginning. In the early season I started helping Mathias with filming because I was still injured from the Season 14/15 and I had to wait till Christmas to ride. Unfortunately 1 month later I hurt my knee again, so I spent the rest of the winter behind the camera.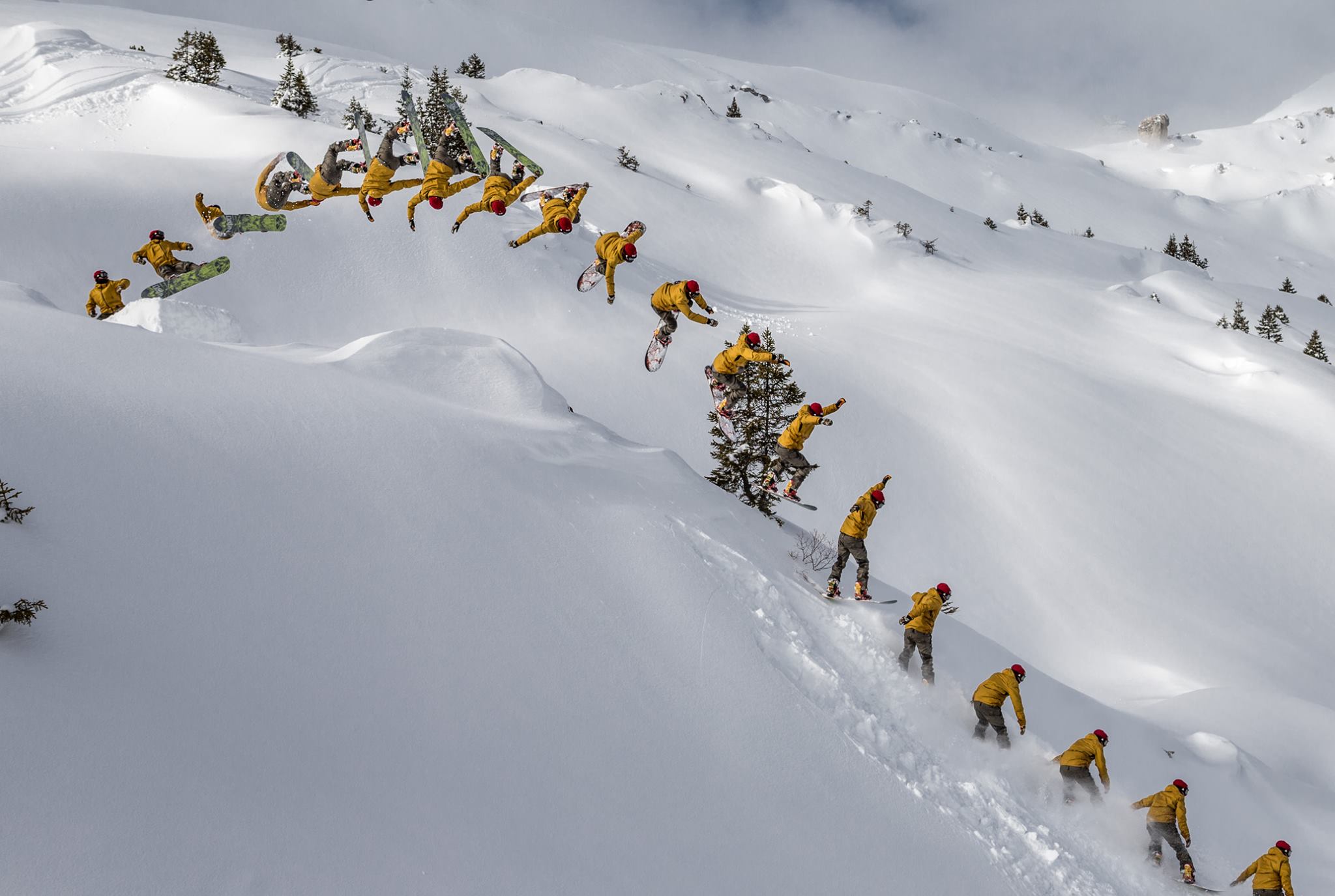 How did you get hurt?
Like every year, the Mindset gang went to Finland for a street trip, this time we had to go all the way up to the north of the country to find snow, since Helsinki and other big cities in the south were warm and rainy. After the gang had already spent 2 weeks road-tripping in Finland, I finally joined them. On our second day, I tried a Fs 360 on a closeout rail to drop. I stomped it but my knee just couldn't handle it. The drop wasn't even that high. I was so damn frustrated. Right when I landed I knew my ACL was torn again. At first I just wanted to stop snowboarding. That was the third time I'd hurt my knee and I was so pissed at myself for not rehab-ing it well enough in the preseason. But after some time, I started to accept what happened and made the best of the situation.
Damn, that sucks! So are you still gonna have some shots in the movie, or were you mostly a filmer this year?
A lot of people ask me if I quit snowboarding and only film now, but thats not true. I still love snowboarding… its my biggest passion! But everyone who's been injured for a long time knows that you have to find something new to do when you can't ride. Luckily I found love in filming.
So to answer your question, I came into the season with an injury, then I was riding for like 5-6 weeks, and then I got injured again. But in this short time I was so motivated to shoot a video part. So in the end, I will have a short part shared with my some shots of my brother.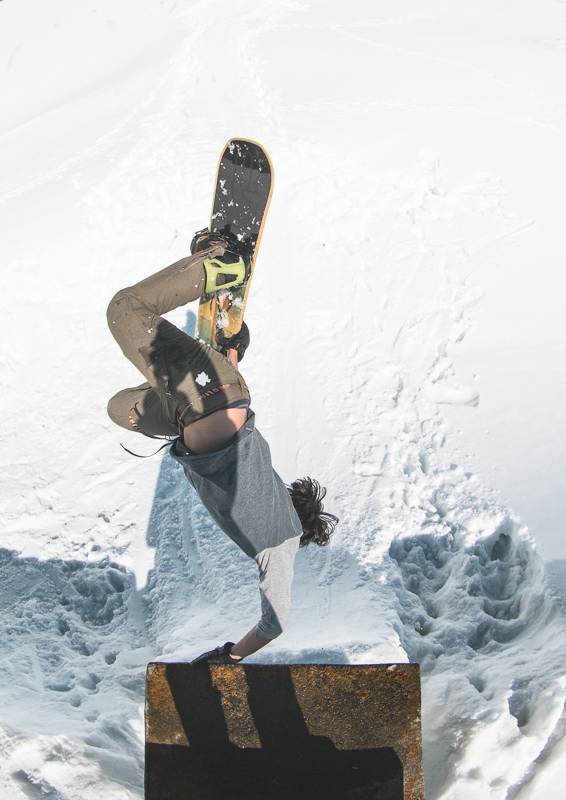 Nice! Who are the other main guys behind this project?
This year there are some new, and some old faces featured in the film. There are the original Mindset founders: Andy Walker, Cedric Gisler, Flo Arnold and Arda Serce. Then we also got three Laax jibbers: Flavio Pfister, Jeron Lohner and Max Wettstein. There's also the rookies aka. The Cartel Boys: Dario Burch, Leo Eigensatz and Joel Staub. And we are also super happy to have the powder machines from RVision featured in CREAMY.
Heavy crew… What's the story behind Downtown Laax?
Well it all started because of the lack of snow during the preseason. The first snowfall in Laax was around Christmas, or even later. So me and Mathias got tired of shooting in the park. I just did the Mini DV Madness 1.0 edit, so we thought we could go to the forest and prepare something for when the snow came. We started collecting some wood and after the first day, we were so stoked about this project, that we started just going to the mountain to build more and more obstacles. I've got to say that we were pretty inspired by the guys from Brighton who created the legendary Bonezone.
In the end we were there for around 7 days, only collecting wood and pre-building obstacles for when the snow started falling. The idea was to build a spot where we could always shoot on down days, when the weather or the snow was shitty. So that's how Downtown Laax was born. Stay tuned for Downtown Laax 2.0 ;)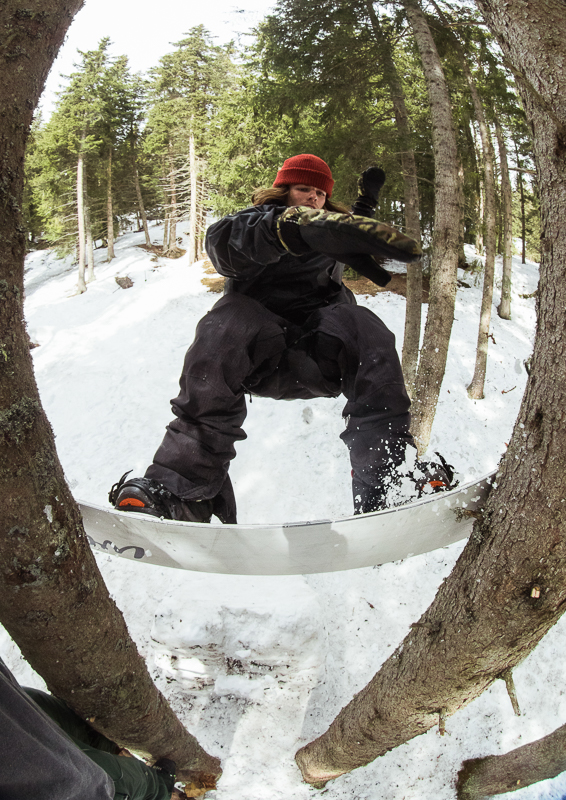 Hell yeah! Good motivation my man… But I've also gotta ask, what's up with Mini DV madness? Are you turning into some kind of retro hipster now?
Haha… actually, yes. I really fell in love with this retro look. It all started in summer 15 when I was injured. At first I just wanted a little Chinese toy camera that films Digital Super 8 style shots. I don't know, I just like the B-Roll stuff that comes in some movies and thought it would be cool to have a little toy camera to film some random shit in summer. So I ordered the camera, but when it arrived it was already fucked up (thanks Amazon). So when I searched for other "old school" cams, I found a Canon XM1 Mini DV Camcorder and I fell in love with it instantly. First I just wanted to film some lifestyle stuff with it, but then the season started and I thought I could try to film a clip with just the Mini Dv Camcorder. It was such madness trying to transfer all of those tapes. I lost so many shots and had a lot of fucked up filming. That's why I called it Mini DV Madness, it's a love-hate relationship. But now I'm all in. I also bought a new VX1000 and a new Canon Xm1, since Dario crashed into the old one.
How much of the CREAMY movie was actually shot on those old school cams?
It's funny, because I didn't know that Mathias also likes to film Mini DV, and Jeron too. So we did a lot of B Roll filming with the Mini DV Cams and even some action shots. The Film is shot like 70% in 4K and the rest in Mini DV.
Are there any spots that you were actually happier to be filming than riding?
For sure! But it's mostly not even that I'm afraid of the spot or the jump. It's more that I know that other riders will do it better, so I'm better off filming them and getting a cool shot, instead of riding and only having 1 angle filmed. I'm not only interested in my part. It's just as important to have a great movie for the whole crew at the end of the season.
I think a lot of the Mindset gang thinks like this. Nobody's just focusing on getting their own tricks. It's more like, everybody is helping everybody to make his part as good as possible. There were so many times when the crew would just show up to help a friend get his shot. Thats what I love about this gang.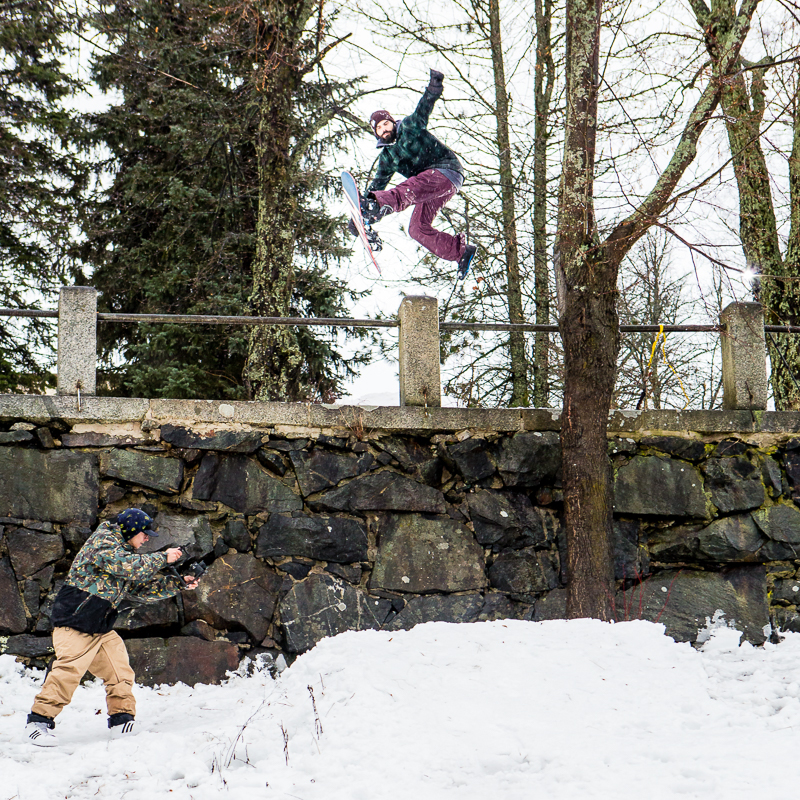 That's what a good crew is all about! So in the end, who killed it?
Everybody killed it this year! But I'm really looking forward to seeing the parts from the new guys, Dario Burch and Jeron Lohner. Both of those dudes are riding so good and their switch game is on lock. But I was also really impressed with Christian Haller, who is also featured in this movie. I got the chance to film with him for two days in the Laax backcountry. I only really knew him as a creative pipe rider, but when he showed up at this big powder booter, he sent it as if he'd been riding pow kickers all year. He landed nearly every try and everything looked so smooth. So watch out for his shots!
Who was the laziest fucker in the crew?
Damn Leo, I have to give it to you… Sorry, haha. Don't get me wrong, he was super motivated to film a part and he killed it! But every damn morning he missed the bus to the gondola in Laax, at the end of the season he didn't even try to catch it anymore. He just took his car for a 3 minute ride haha. But I promise, you wont see any laziness in Leo's part because it's full of hammers ;)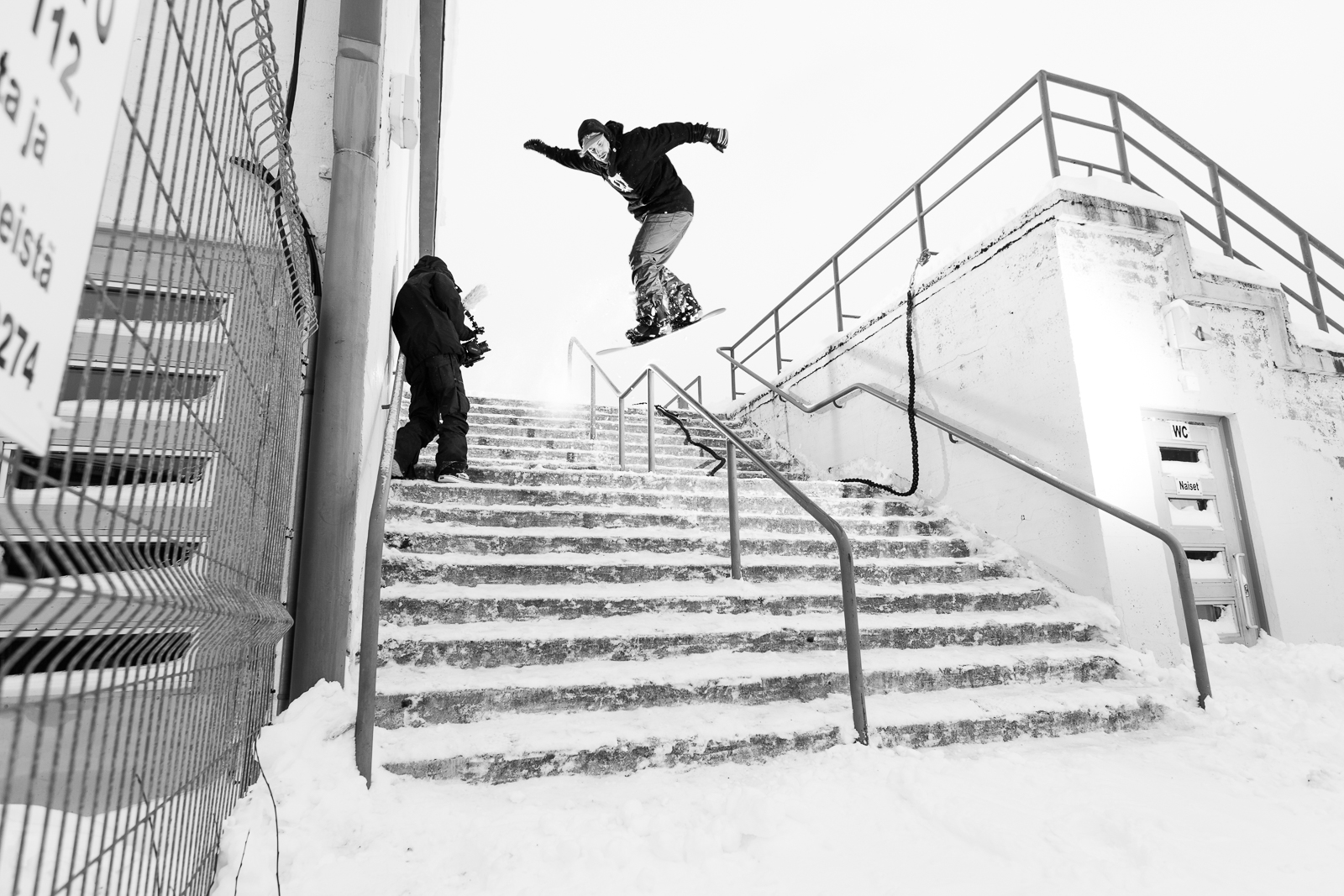 Any funny stories to share?
Oh man so many good stories but one is especially good. 1 Day after my crash in Finland, I went with Max, Arda and Flo to a spot. I had crutches and could barely walk. The spot was a really long, wooden down rail, by a horse-sleigh racing track… you know, like Gladiator style, but in the snow. So there were some guys riding the horses, and the landing of the rail was on the track, but we were always looking in case somebody was coming. So one time, Flo dropped in and a horse was just on the way to the landing spot. But he still had a lot of time to land and everything. So after half of the rail, Flo dropped out and stopped. He didn't even go on the race track, but the horse had such a panic attack that it left the track and sent it directly into deep powder. A fat Finnish guy was riding the horse and tried to calm it down. We saw that they eventually got back to the race track and went back to the farm.
So we continued riding, but after a while the fat guy showed back up and he was super pissed. Long story short: The sleigh was destroyed and the horse had run over a car and then escaped to the deep forest. Apparently, that horse was worth a million bucks, was maybe injured, and had a race on the weekend. I was just standing there with the guy screaming some Finnish shit into my face, and then he grabbed my crutches so I couldn't run away!  So eventually the police came and took everybody's names. Then we left and never heard anything from them. I'm sorry for the horse, but the fat Finnish guy was kind of a dick, so I guess he deserved it.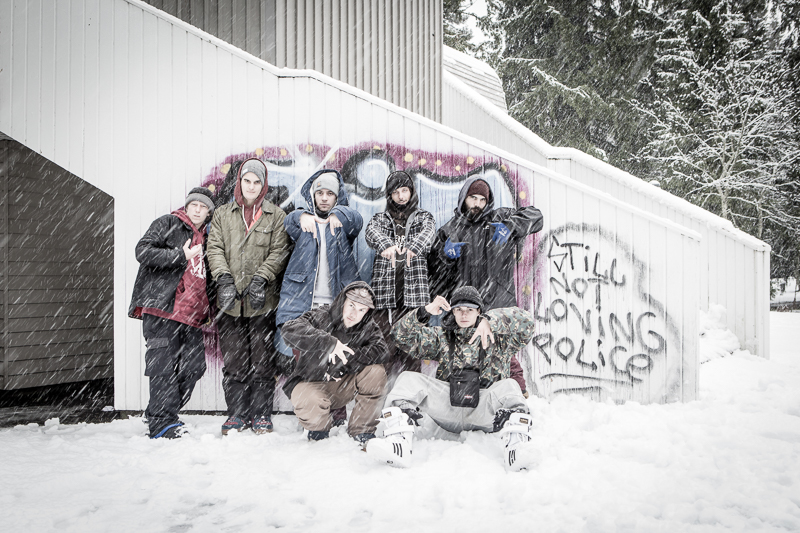 Wow, that story is pretty amazing. I don't think we can do much better than that… haha. Any other important info we should know before we wrap this up?
Be prepared for more teasers. Every Thursday for the next three weeks we will drop a new clip. After that we will have our premiere in Zürich in the "Wunderbar" on October 22nd. Keep an eye on our Instagram feed to win tickets. (@mindsetprdctns)
Also stay tuned for the #Laaxisniceyo web series which features the Mindset gang at Downtown Laax. That one drops in early November.
Got it… Any last shoutouts?
We want to thank everyone who supported us in this project. All of the riders, filmers, friends… and for sure all of our sponsors. Thanks a lot, Blue Tomato, Laax, G-Shock and Doodah!
I also want to thank Mathias for putting so much passion and love into this project!
Finally, we would love to see you all at our premier to celebrate our movie. Come party with us on October 22nd! 
Right on! Also be sure to keep your eye on this page for the online premiere and our mags for lots more behind the scenes content from the making of Creamy.