These days, everyone makes movies. Give your mom a GoPro and you can be sure that she'll be dropping your "full part" by the end of the season. Expensive gear isn't the most important part, but there's still a big difference between a kid playing around with iMovie and cinematographer. Over the past few years, we've seen Marco dropping increasingly more sophisticated edits of his friends, so we asked him if he had any "extra" footage from last season that he could cut for us. The clip below is what came back. Check it and a little interview below… 
Hey Marco, we're pretty stoked on your Thunder Monkeys. What can you tell us about it?
Thank you very much. It's nothing that special, just some leftover shots from the season mixed with some stupidly square filmed GoPro footage that the riders filmed themselves. So that's what's up with the fancy video ratio mixing.
Ha! I would've never guessed. The line between fucked up footage and art gets a little blurry sometimes, I guess.
So who are all of these monkeys that we see sliding around in this edit?
There is Fabian a young gun from Klosters. He's always down to go filming and kills it.
There is Gian, I actually don't know that much about him… haha. But he always surprises you with some crazy shit on the rails.
Then there is Rene or Raina as we everyone calls him. He's from the older guard and keeps it straight G. I always have to tell him that I won't use Hip-Hop in the edit 'cause I can't stand it.
And of course, like in every video of mine, one of my best friends, Marc. I've been filming with him since the very beginning. 
Any interesting stories to share from your days out there filming last season?
One day in December, when the sun goes down quite early, we wanted to stay up on the mountain for a sunset shoot. After one or two runs, we saw the moon coming out. So we decided to do a moonrise shooting instead. Unfortunately the lift didn't run anymore, so we hiked up to the rainbow box. 
As soon as I wanted to start shooting, I noticed I ran out of fucking battery, like always in these situations. As fast as I could, I ran down to my backpack where I had another battery for the camera. I looked up, the sun was still there and the moon still low enough. Then as fast as possible, I ran back up again. 
With no breath left, and now quite high from the doobie we'd smoked, I screamed that I'm ready now. Marc had just lit up a cigarette cause he didn't expect me to be so quick and dropped in. 
This shot is my favorite that I ever took. Marc high over the rainbow box with a crail grab smoking his cig and the moon in the background.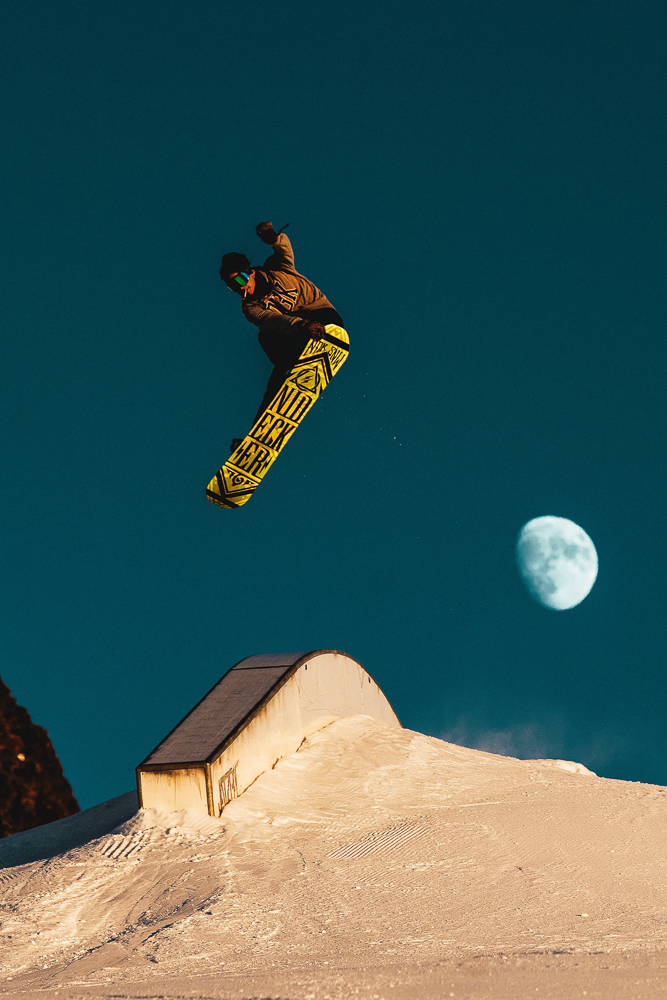 Lighting comes before thunder, but monkey came before man… so are you making some sort of hidden statement about the evolution of snowboarding?
Haha not at all. It's kind of an inside joke that we picked up in Lombok. If you wanna know more you should watch the movie Lords of Dogtown.
Ah yeah, that's a classic. Need to watch it again…
So what's the snowboard scene like in Davos these days?
Not what it used to be. There are still really good riders in the park from the sports school in Davos but since the O'Neill Evolution isn't there anymore, I have the feeling that it's dying slowly, especially the party scene. It also doesn't help that Laax isn't so far away, so people who live in between mostly choose to go to Laax. But that makes the park in Davos less busy, which is perfect for filming and chilling.
The best thing is that Davos already has the whole park setup in December. On that point, big ups to the shapers!
Yeah, It's been a while since I've been there. Do they still keep the pipe in town running through the winter?
Yes they still do it, but since last year it's a lot shorter. I guess the only reason they still have to do it is for the training of the students from the sports school.
Who's your favorite local to go out shooting with?
That'd be my buddy Marc. Because we've been filming together for so long. I know what he wants to do and he trusts me if I say how I want to film it. And he also feels when I'm tired of filming after 50 tries, so we can try something else or put it aside and call it a day. We also share a similar taste in music so we never fight about the music choice for an edit.
How did you get into filming?
When I was 18 I bought my first camera, mostly for photography. Of course I also tried the video function of it. I did a summer edit and straight away, I won a video contest. So I gave it a go in winter too and people seemed to like it.
Yeah man, you've got skills! I've seen quite a few creative edits from you over the years, where do all of these projects and ideas come from?
Hard to tell, I think that mostly when I listen to a certain song I have some kind of vision and get a very strong desire to translate that to video. Till now, snowboarding and skiing was a good way to express that visually, but as I get older and also got into other interests, I also want to take that into other directions.
What's the story behind Blizzard : Heroes of the Storm? That one had me laughing and scratching my head at the same time.
Haha that started about 6 years ago. My best friend Jeremy and I found these old school one-suits in the local thrift shop and we knew we had to get them. The next day we went up the mountain with them and all of our friends also wanted to get one of them. So the next year we did a quite exclusive old school day – friends only – and did our first old school video. Of course we needed a rad name. I don't remember who came up with the name but from that point we called ourselves the Blizzard Professional Freestyle Team. Since then we come together once a year to go shredding with the team and make a sick video. As we get older and the team is spread all over Switzerland, so it's nice to have an annual gathering of friends to shred, get fucked up. 
These videos are actually the only ones that I re-watch the most and the first ones I show to other people I meet on travels when they I ask me what I film… haha.
What else are you into outside of snowboarding?
This summer I worked on a stop motion/animation movie and I really got into it cause I was able to do whatever I wanted, and be as weird as I wanted. I don't want to tell you too much about it but it's gonna be dark and odd. I also would like to do some more music videos but usually the bands that i like the music of don't have a lot of money, or the need to make music videos.
What are your plans for this winter?
I'll be filming for QParks like the last 3 years and hopefully I'll be able to go filming by myself to put out some more edits of my own. And there's a 100% chance of another Blizzard video coming your way.
Sounds awesome… Anything else you'd like to add before we wrap this up?
Thank you for the opportunity to talk about my stuff and let's hope for a good and snowy winter.
Yeah, I think we deserve one. Thanks for your time Marco! Let's close this out with a little tease of your stop motion project…