Shaping a good park in 2021 has proven to be a pretty big challenge, so we're stoked on any resort that's trying to make it happen. We recently checked in with our friends at Riderpark Pizol to see how they're dealing with the current situation…
I guess this has been a complicated year for everyone. How's the season been going for you guys so far?
As every season, it has had its ups and downs. We started the season with our first setup mid-December, however we couldn't build any more obstacles until mid-January. Why? Lack of snow & the canton of St. Gallen closed all ski resorts from 22nd to the 30th of December due to Covid restrictions. But, now we're back open! And for the most part, it's been great. 
Can you share some of the history behind the park?
The Riderpark is built & shaped by QParks – and definitely one of the highlights at Pizol.
The intention behind the Riderpark has always been to be the home base for all freestyle riders at Pizol, and a place where riders come together. The setup includes three different sections – Easy, Medium and Advanced, so there's a good line for all riding-levels.
What's the shaping philosophy for you guys these days? Would you say that the park is more focused on progression or fun?
The setup allows for both progression and fun. Everyone's more than welcome, whether you're taking heaps of laps or working on your first tricks. And if you need a break, the Chill-Area is a great place to hang out and enjoy some of the most amazing views over the Rheintal all the way to the Bodensee! Additionally, it needs to be said that on pow days, Pizol offers some of the best freeriding imaginable.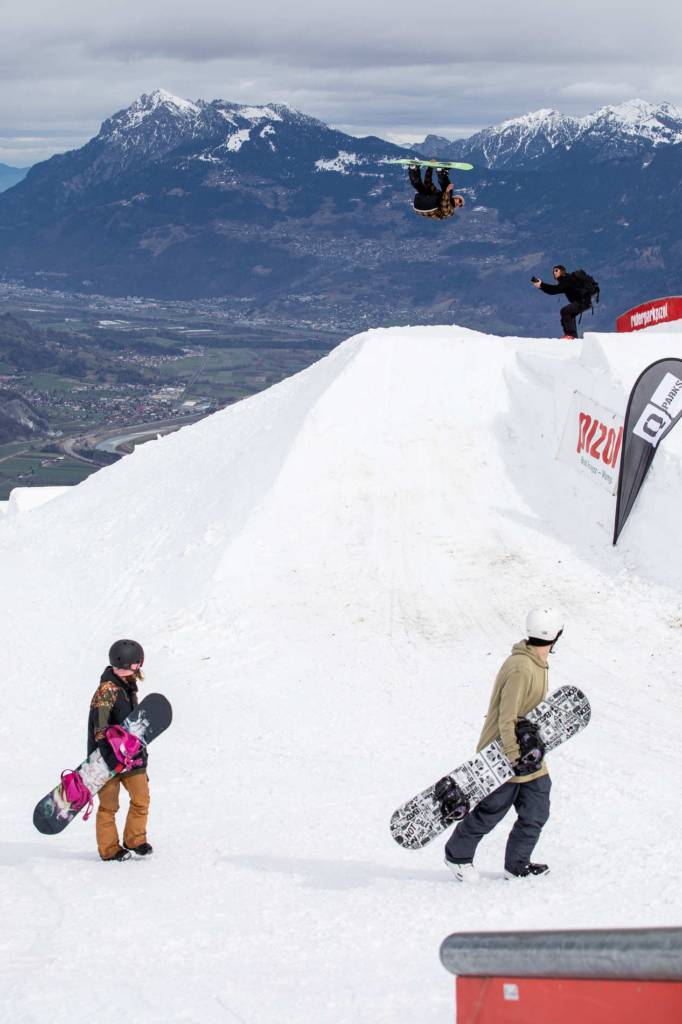 Are there any events planned for this season?
Well, that's a tricky question! We have a few events planned – however, Corona & the restrictions are giving us a hard time planning. Keep an eye on our website & our social media channels, we'll announce our plans as soon as possible!
Who's in the shaper crew this year?
Park Designer: Bartosz Zabiega
Multimedia Shaper: Kenneth Tutt
Shaper: Jannik Unser
Thanks for your time! We're looking forward to another session in Pizol soon!