A few weeks back, we stopped by the Nidecker office in Rolle. It's a pretty sweet setup, just a few minutes walk from Lac Leman, 30 minutes from the nearest lift and packed full of toys. Over the last few years, we've seen it evolve in lots of interesting ways. The latest addition is a bar in the entryway. I'm not exactly sure how it effects productivity, but it's safe to say that morale in the office was pretty high by the end of the day. 
While there, I caught up with two of their top engineers, Daniel Schmäh and Santiago De Santa Catalina. We aren't allowed to show you all of the mad science that goes on in their top secret lab, but we did get the story behind their favorite new invention — The Supermatic. Read on to find out how Nidecker's new fast entry bindings came to life…
Can you guys please introduce yourselves?
DS: I've been passionate about sports and technology forever, always trying to rethink or improve the different objects around me – and more specifically, my sports equipment. After my engineering studies, I jumped at the first opportunity to combine my professional skills with my passion for sports and worked for eight years on the development of high-tech sailboats before joining the Nidecker Group. I've been here about 7 years now, taking care of different R&D projects. But recently, Supermatic is the main one.
SSC: I'm deeply passionate about snowboarding & splitboarding, and I'm a total gear nerd. So I've always dreamt of joining a snowboard company as a Product Engineer. After finishing my aerospace engineering studies and getting some useful experience at a bio-tech start-up, I got the chance to join the Nidecker Group in mid-2021. They were looking for somebody to help with the product management for both Nidecker and Flow bindings, as well as the new Supermatic project.
How many years has it taken to bring the Supermatic bindings to market?
DS: We started this project over 5 years ago with a very small team. It took us two years to brainstorm and test several prototypes to reach the right solution which offered a way to open the binding enough to easily step-in, while keeping the straps tight enough once closed. Another challenge was to find a system that would lock the binding in its closed position, while being safe and reliable in any kind of snowy environment. After several generations of prototypes the technology started to show a real potential.
We expanded the team to start working on product design and start the industrialization process with our manufacturing partner. Last but not least, Santiago joined the Supermatic team a year and a half ago. He's worked hard with us to manage the large scale feedback that we got from all of the testing last winter. He also helped me launch a new dedicated Supermatic quality control program, and manage all latest production details and refinements which were critical to setting up a successful launch.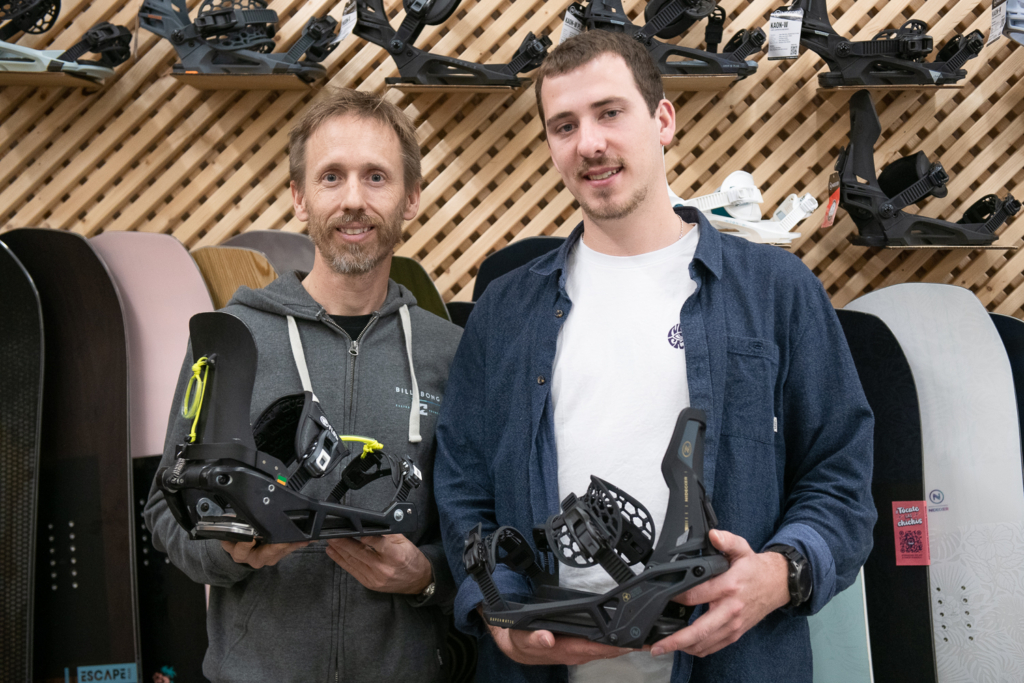 What were some of the biggest challenges that you guys encountered in the development process?
DS: We encountered three big challenges:
The first one was a technical. We had to find an entry system that would be compatible with all boots and which would offer, when locked, the same feeling as a traditional two strap binding. All boot brands and models are made with different shapes, dimensions, materials and lacing systems… add in the wear states and there are so many different configurations that need to be able to slide into the binding that it made it a real challenge to fit to almost every boot.

The second challenge was snow. Who in their right mind would develop products which have to work in such tricky conditions?

 Snow is at the heart of our passion, but at the same time, it's what makes our engineers lives a lot trickier. We ended up spending more time in freezers than I'd like to admit. But we were also on the slopes in lots of different snow conditions to test, compare and validate different locking systems before moving the product to market.

The third big challenge was in transforming my first Frankenstein-Style Prototypes into appealing products! At first I was riding these fat and heavy monstrosities that came out of our 3D printer. They only existed to validate the concept of the system.

We worked for that with Think Think Design, an external design agency and also worked hard with Benjamin Landry, our genius CAD expert in order to reduce external dimensions and weight until we got to the actual product that's on the shelves this winter.
How much of the process actually happened here in Switzerland?
DS: Easy, 100%. Every step of the development process happened here in our office, in Rolle, and in the nearby mountains where we did all of the testing. We're lucky enough to have some slopes in the Jura about a half an hour from the office and the Alps are just an hour away. It makes it really easy to go for a sneaky 1 or 2 hour test session and then come back to the office, then do another lap integrating the results of the morning's tests. This is a big advantage we have here.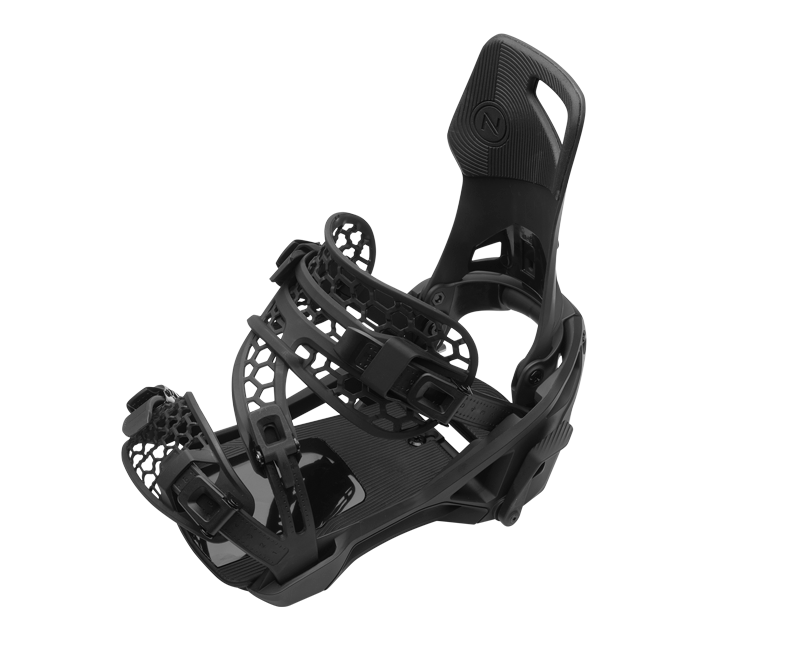 Fast entry bindings pretty much disappeared from the market between 2005 and 2015. What was the main problem with those early "Step In" style systems?
DS: All those systems had two main issues: first was that none of them could offer a similar feeling to two strap bindings. They just missed that feel of a strap, and of course the dedicated soft boot sensation. So even if plenty of people liked the idea of stepping-in quickly, most of them were not ready to make the trade-off and compromise on feel, with heavier and more rigid boots. 
The second big issue was that "step-in" generally means "dedicated boot". This was also a main reason why most of these systems failed and/or disappeared. We all have different foot shapes and boot brand preferences – and, of course, others which don't work so well for us. You may like a system but not feel good in the boots from that brand… so you won't ever be totally satisfied with the system. Moreover, a dedicated boot system also means that when you want to buy into the system, you have to buy some new bindings and the new boots, so the investment is much higher.
Supermatic sends all of those drawbacks into the history books.
A few brands have recently introduced their own modern fast entry systems. What sort of advantages does your system have over the competition?
SSC: I believe the key is that we've developed the first automatic snowboard binding that has successfully managed to combine three major advantages. Until now, competing brands have only been able to satisfy one or two of them.
AUTOMATIC

: It's quick and convenient. By dropping the foot in, the binding closes by itself. Then, for releasing, just press the lever while slightly lifting the heel of your boot. You're out.

UNIVERSAL:

Supermatic has been designed and tested with a vast range of boot brands, models and sizes to work with every single snowboard boot on the market today.

DUAL-ENTRY

: If you're in steep, or off-camber, or waist deep powder, you'll always be able to use Supermatic like a normal two-strap binding. Therefore we can confidently say that Supermatic works in all conditions.
And in terms of feeling, there is one factor that I always like to point out. All other automatic systems nowadays base the attachment points from the sole of the boot or something similar, giving a totally different sensation because  you feel that you are anchored to the board from the bottom of your feet. I think it is essential to keep the feeling that straps provide, especially when you're on your heel edge and want to have the board to respond quickly. This is not lost with Supermatic. It's the same riding experience that you have with a classic binding.
Were you nervous when your baby finally got shipped out worldwide this season?
DS: Yes, sure! We've been working so hard on the development of this product that we were all very excited to reach this step… but also nervous that everything would go as planned! The launch of a new product on the market, especially when so disruptive with the actual competing products is always an intensive and emotional period for the parents. However, we already had a lot of production samples on snow the last two winters and had a lot of technical and marketing feedback, so we were quite well prepared for this phase.
How has the feedback been so far?
DS: Amazing! The vast majority of the people who test the binding don't want to give it back and that was the reason why lots of shops were already sold out long before Christmas. We apologize to all of the riders who couldn't get their own pair this winter. To be honest, this season we already produced more Supermatic bindings than most other binding brands produced for their entire collection… And that's saying a lot because we only had one model in two sizes and one color-way, compared to most brands that have a huge line with lots of options! But looking at the success the binding had already back in autumn, we quickly understood it was not enough for the future. So we've already multiplied some production tools and updated the schedules in order to ensure a bigger production for next winter.   
What sort of rider is this binding built for?
DS: We started off targeting the "average" snowboarder, but the reality is that our audience is much, much wider than we thought. The interest is coming from total beginners all the way up to pros. And we've heard from both young riders to 35+ riders who quit snowboarding and went back to skiing because they were sick of having to strap-in. We know some core riders might stay on their beloved two-strap bindings, but for anyone who doesn't want to lose any more time and energy strapping in and out – without making any concessions on comfort and feel – come check out the Supermatic! You'll love it!
Do you guys only ride Supermatics now? Like all of the time? Or do you sometimes switch back and forth between systems?
DS: It's 5 years now that I've been riding this technology and I couldn't go back to traditional bindings anymore! I am nearly 44 and often riding with skier friends. It would be too frustrating to go back to having to strap-in and out of a oldschool binding.
SSC: I'm working on the full Nidecker and Flow bindings line as well, so I still test and ride some other binding models, as well as competing offers from other brands. But to be honest, yeah, I always miss the automatic function when I go back to a traditional binding.
Have any of your team riders switched to Supermatics?
SSC: They all have a pair, and although we don't push them to ride Supermatic, they always tell us how happy they are with them. Depending on the day and the situation, they'll use them frequently, either to avoid wasting time on quick park laps, or on all mountain resort riding days.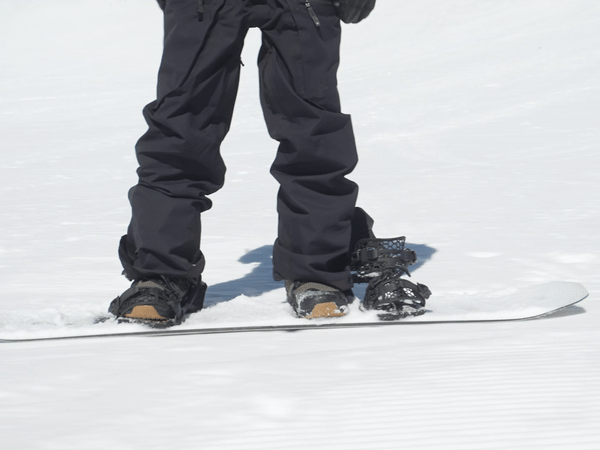 Do you think that the demand for fast entry bindings will continue to grow?
DS: Yes, I do. People today are looking to solutions making their life easier, for everything. The demand for such bindings is definitely here. Moreover, fast-entry bindings will help stimulate the snowboard market as well, by offering a more attractive solution to new riders and offering a valid new solution to current ones who are bored of the strap-in process. I've seen lots of people and friends in my generation quit snowboarding for skiing because of the mess with the bindings. But now they're coming back to snowboarding after riding Supermatic.
What are some of the changes that we'll see in future generations of these bindings?
SSC: We are only at the 1.0 version today. We've got plenty of new developments in progress. The future of Supermatic will be a wider line, with tech improvements, new sizes, and so much more.  We're just getting started. Stay tuned!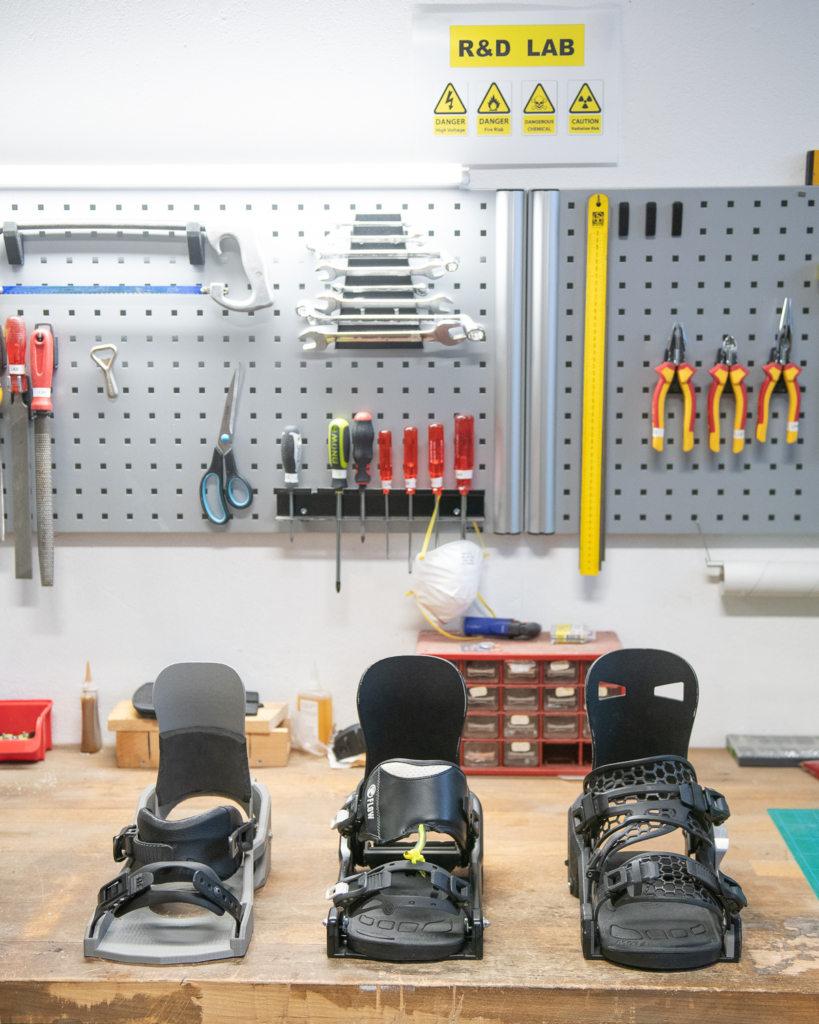 Thanks for your time! Anything else that you'd like to add before we wrap this up?
DS: Thanks to the management of the Nidecker Group for pushing and believing in the future of such R&D projects and thanks to Whiteout for giving us an opportunity to share our story!
Thanks to you guys! It was really interesting to learn more about some of the snowboarding innovations that are coming out of Switzerland, and was a great opportunity to tour your offices and the lab. We're looking forward to seeing what comes out of it next.