Every time we strap in, we're looking for that feeling of freedom. We feel like we can ride wherever we want, however we want. But what if we go a bit further, by leaving even more restrictions behind? Maybe we should let our feet run totally free? Maybe it's time to shred like actual surfers, only using our our body, a piece of wood and a snowy mountain? That's exactly what Ben Dietermann decided to try when he created beautiful powsurfs and launched his own brand, Konvoi Snowboards. The pieces of wood that he rides are the fruit of his creativity, his work and his passion. Come and discover a brand new world – the one that Ben shaped for himself.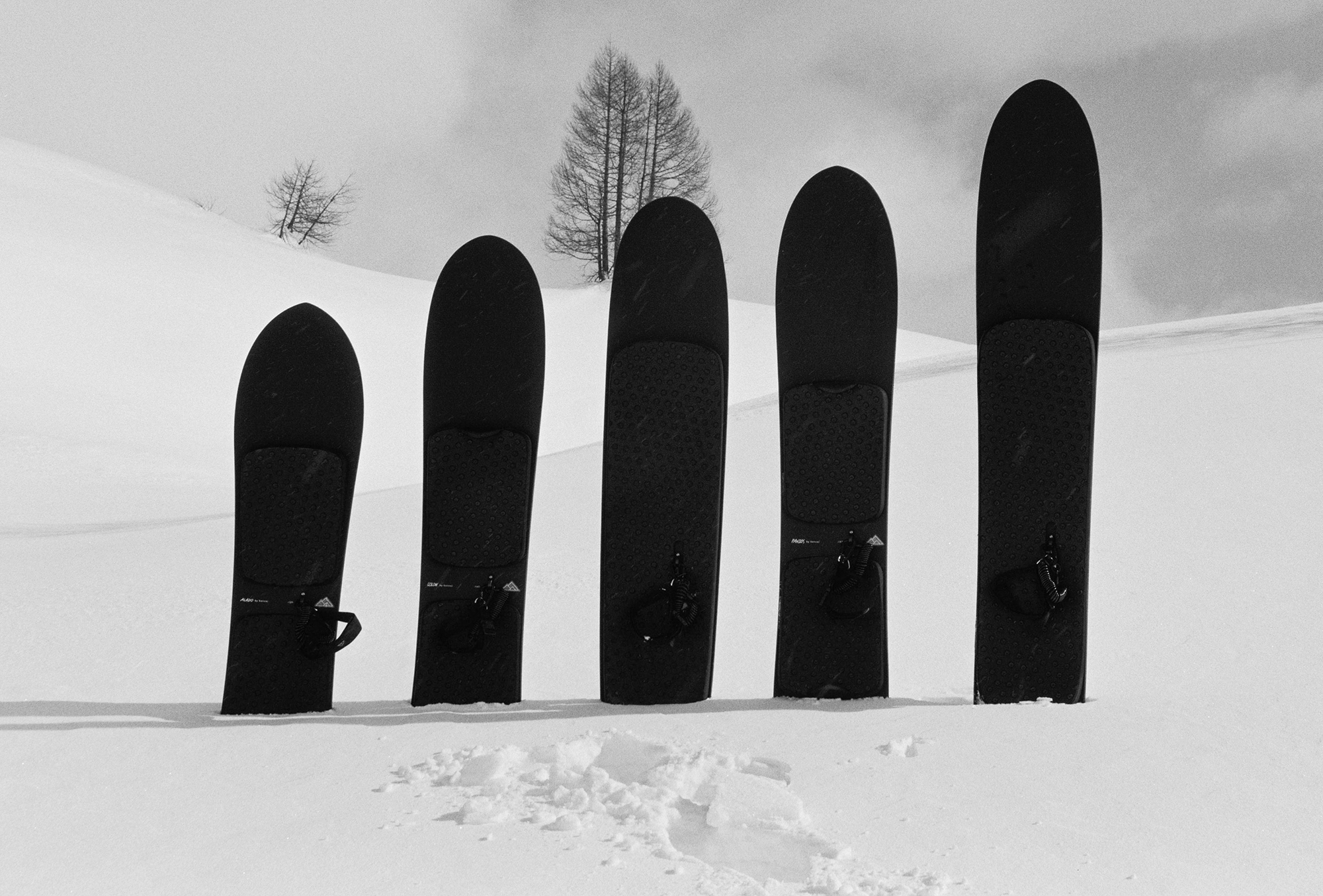 Hey Ben, can you introduce yourself?
Hello hello. My name is Ben Dietermann and I fell in love with playing outside in winter times at an early age. After failing to build a foot powered ratrack at the ripe age of eight, I moved on to building my first snowboardish device and never looked back. Discovering the backcountry was the next influential step a few years later.
Meanwhile, I became a craftsman by trade, and a little later, studying brought further insights into construction technologies. Embracing profound technical knowledge and a creative working spirit, the questionable concepts and ethics of corporate industries made me look further. A research project for a Swiss ski brand reignited my curiosity. After studying it a bit, I realized that the first real snowboards and powdersurfers were built based on nothing but a few ideas and a lot of motivation.
Up to this point, I hadn't ridden a proper powdersurfer, but the idea just appealed a lot to me. And at that time, you just couldn't really buy anything like that.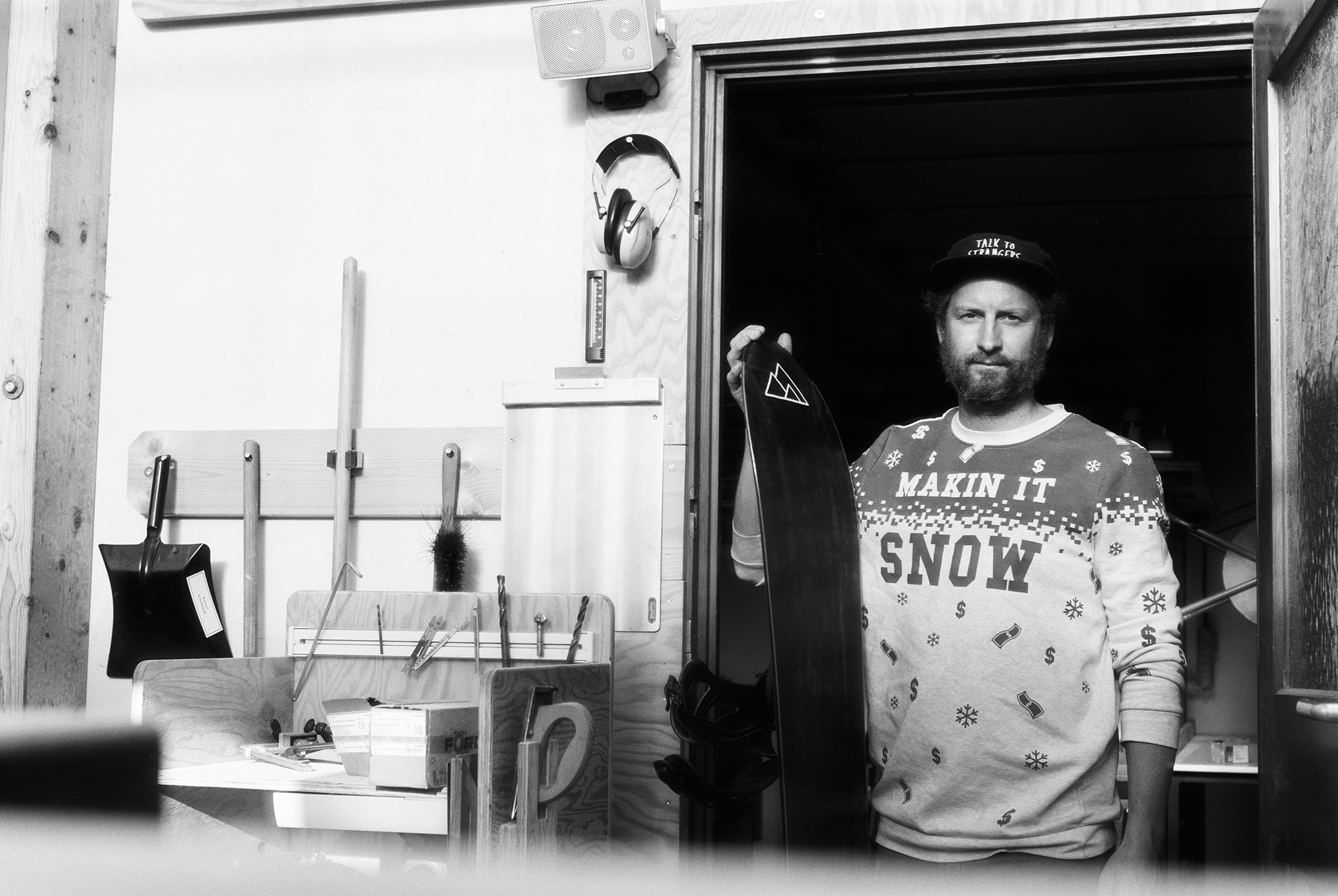 Can you tell us a bit more about Konvoi? What's the idea behind it and how did it get started?
The boards came first. At the time, life had confronted me with some quite heavy stuff. Creating and crafting boards served as a sort of therapy for me, so I treated myself with a hefty dose of it and kept the ideas flowing straight from my head, on to the snow. At that time, I was working for a small German snowboard brand called Pogo. They gave me the opportunity to reinvent and use their workshop 24/7, as long as I also took care of their daily work.
The results from those countless late-night shifts soon became impressive and needed to be shared with a bigger audience. Feeling handcuffed by the chaotic manners of a drifty brand and knowing that it was time to move closer to the mountains again, starting my own brand seemed like the best thing to do. Small independent record labels served as the role model. I wanted a brand where an honest vision, motivation and the products lead the way — rather than margins or laziness.
In a way, that felt and still feels like coming full circle. Even so, I never really planned for it to go this way. As an enthusiastic snowboard kid I read snowboard mags and catalogues like they were the holy scripture. Now I get the chance to try to live up to those high standards that I simply assumed existed back then.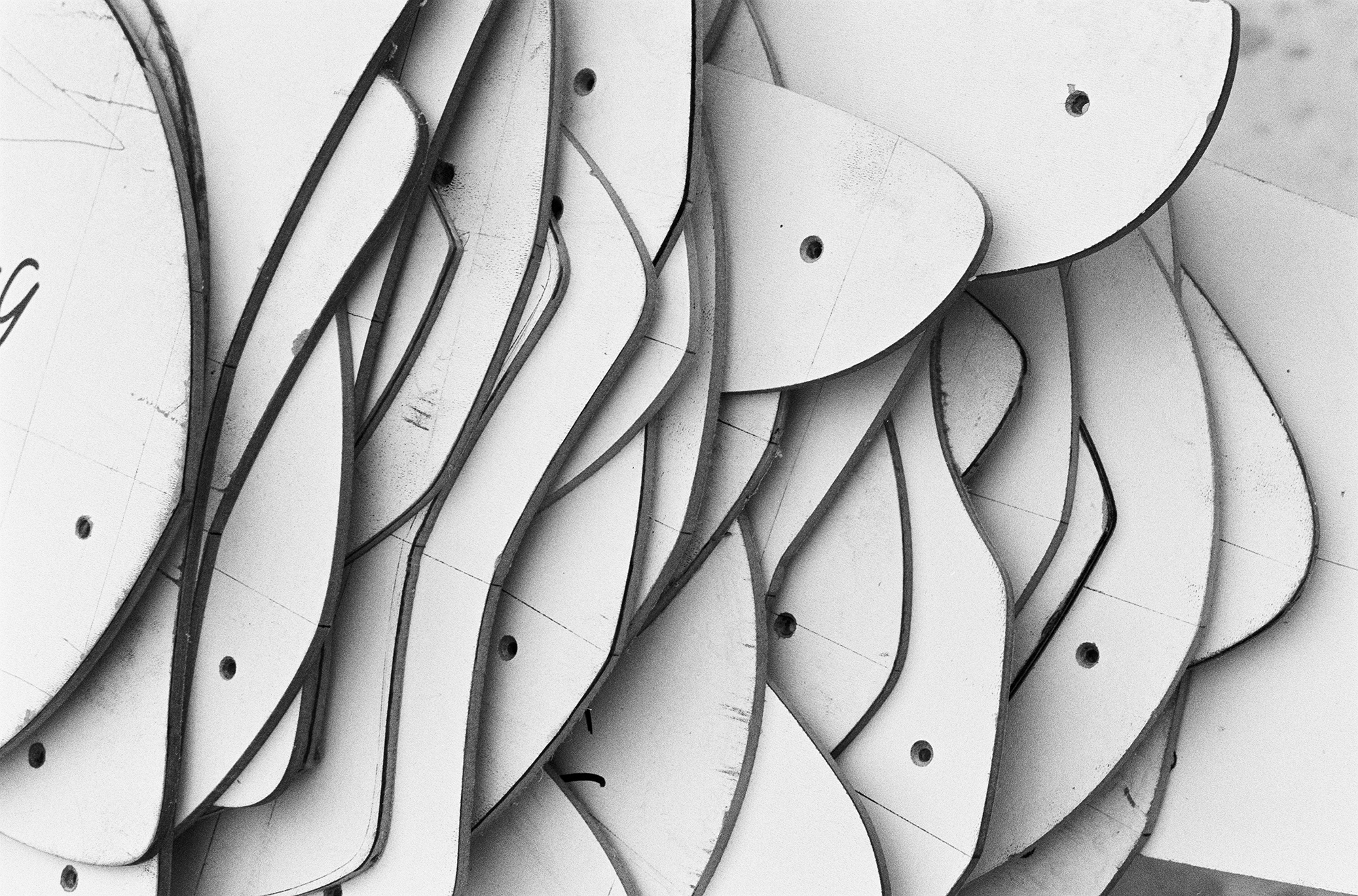 Surfing and skating are a huge source of inspiration in the snowboard world these days. It's probably even more true in the powdersurfing community. What is your relation to surfing and skating?
First things first… inspiration definitely comes from a lot of things for me. Nature, people, music and skating being the major ones. Surfing is actually only a minor one. I'm just not keen to spend much time in the water. And I'm totally ok with that and if I wasn't, I would simply change it. And a lot of times that term is often only used to describe a certain way of motion and of course those ways appeal to me. But in my case, the inspiration still comes from different places.
Skating on the other hand is an influence that I even sometimes still underestimate myself. How come? There's just so much to it. Growing up in a small village, everything is in your very own hands when it comes to skateboarding. You want something to skate? Build it. You fall, you fail. You get back at it. You learn to see possibilities where others see obstacles. You learn to be creative and learn a lot along the way. It's stuff you can benefit a lot from later, in all aspects of life. And in a way, it never stops. I still build skateboard ramps every summer. For a few years now, I also do it in a professional manner.
When it comes to the actual act of riding a skateboard, my approach was always a bit different, right from the start. I was never into the flip tricks and this brings us back to snowboarding or powdersurfing. It's great fun to do some tricks, but for the most part, it's very far from being just about tricks. Do what appeals to you! There are no rules, even if you always encounter people that tell you so. Find your own flow, impress and entertain yourself. Put your body in full motion. Ride with gusto! It's all about playing with your surroundings, and thankfully, the streets and mountains offer such an amazing playground.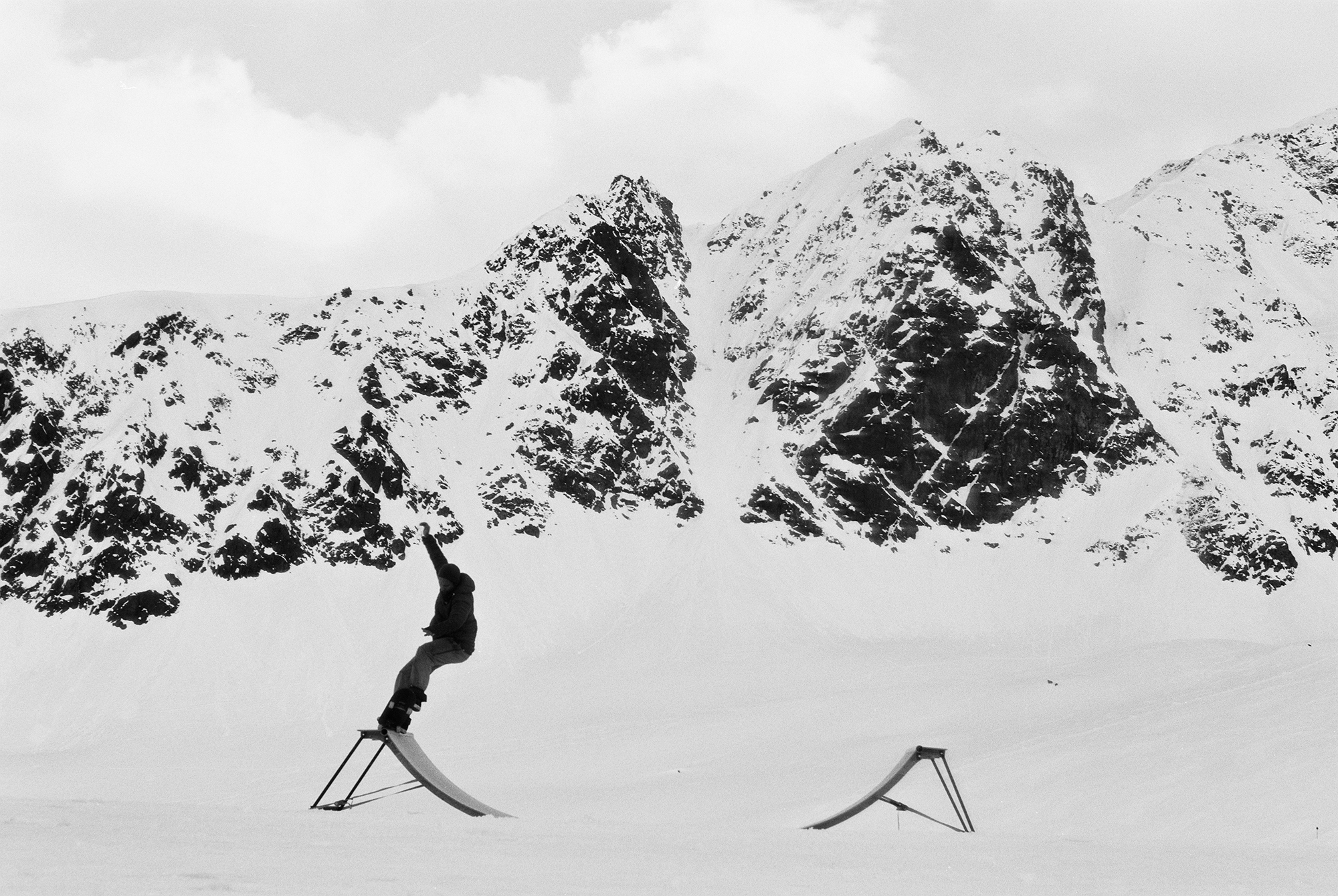 How does the average powdersurf session look?
Thankfully there is no such thing like an average session. But it's fair to say that with powsurfing, the session vibe is back within the powder territories. While freeriding often means charging a line all by yourself, only to reunite at the bottom, a lot of powdersurfing happens together in a nice patch of that fluffy white snow. Everyone shares the fun, swaps boards and pushes each other.
Opposed to popular belief, you can go powdersurfing much more often than most people assume. Of course, the perfect powder days are fun, but thankfully, you can often boost those days a lot where the expectations are rather low in the beginning. And here's where it gets the closest to surfing for me. You definitely need to be a bit better at judging the conditions instead of just going out on your snowboard. Often, that judgement has to happen beforehand. But after all, you just need to find that soft snow, and there you go. And yes, slush is fun too! And in the worst case, when you've gone all the way up and the conditions give you a hard time, you can always just sit down and sled to the bottom.
There are many ways to get some good turns in. You can just go for local hills left alone by freeriders. You can also drive up mountain passes or roads and just play next to them. And of course you can venture into the backcountry. Yes, splitboarding and powdersuring can go hand in hand. You just need to be willing to carry a bit of extra luggage. And for all the people that are not so keen on walking, there is also the option of resort powsurfing. My personal tip is to try small family style resorts with lots of  t-bars, where you can shred all of that left over powder without much effort.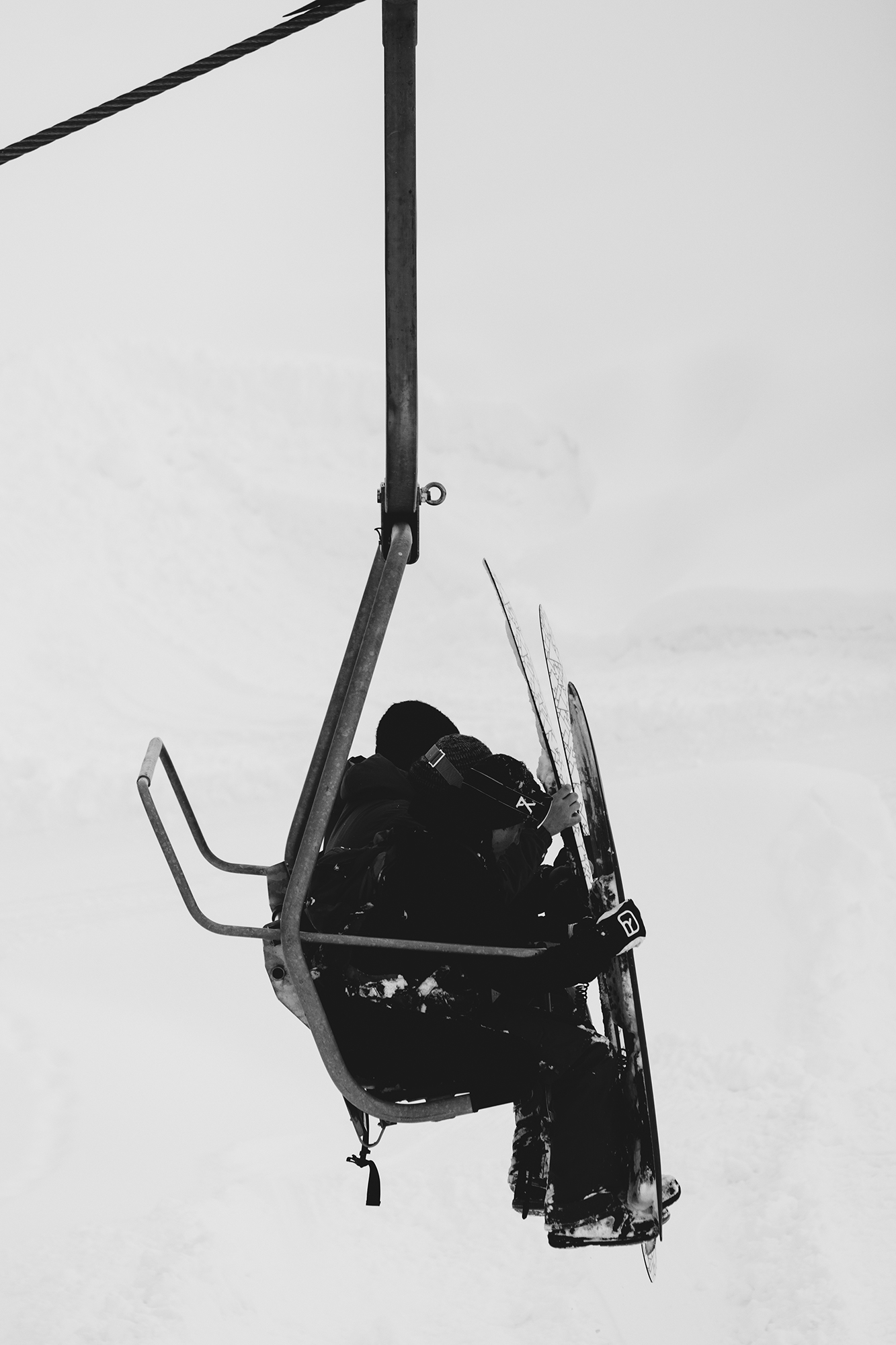 What makes powdersurfing so special, compared to snowboarding?
Powdersurfing is like finding a new world in the same galaxy. Of course, it's still the same simple, ever-fascinating act of gliding down some snow… but with quite a new twist and feeling to it. The simple maneuvers become a stunning thing, again. To get the same sensation out of snowboarding, you just need a lot more going on. You're always looking for steeper terrain, faster turns, narrower couloirs and bigger jumps… But skip the bindings and you can get the same kicks on the snow-covered hill behind your neighbor's house. And don't worry, it's not about slowing down with snowboarding. It's actually the opposite! Once you've experienced turns in snow that pure, and with a more intense body movement, you will fell reignited the next time you strap-in.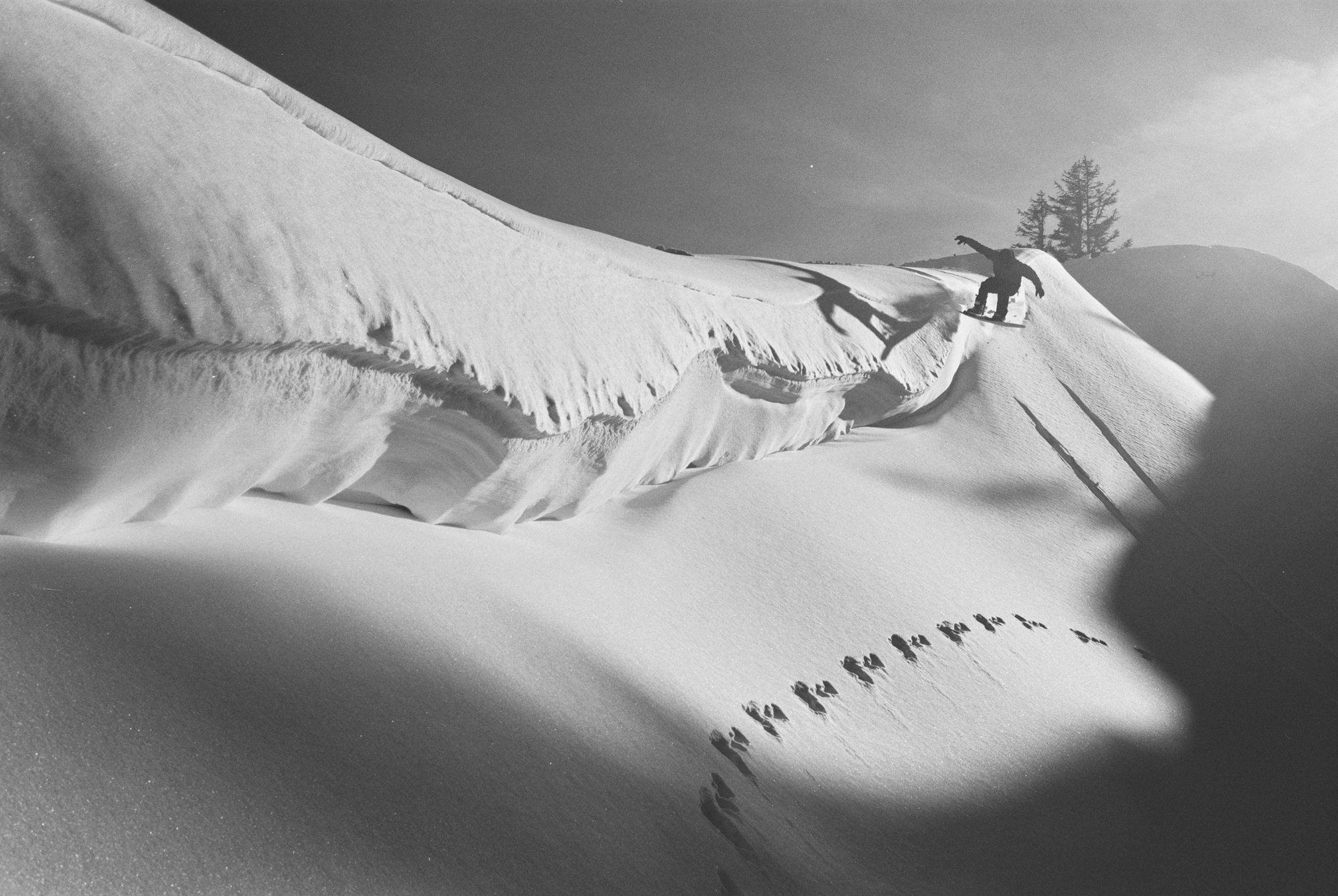 Can you tell us a bit more about the shaping process?
I don't have an urge to change my passions all that much over the years, but I do have a strong urge to keep them in constant motion. There is always something new around the bend, or an idea itching to be realized. There's no status quo on the horizon. I'm always curious to try something new and find out what's next.
Even though I worked for a snowboard manufacturer in the past, I was never taught any do's and don'ts. It would have made a few things easier, but learning the hard way made me learn a lot more, and created the chance to question everything. So, learning by doing – and doing a lot: creating shapes, boards, tools, production methods, constructions… and then seeing what happens.
I also worked a lot on methods that allow you to try out more new stuff faster. The main lesson I've learned so far is, that you never really know the potential of an idea till you gave it a shot. I know there are purists hard-lining a lot about what's wrong or right, but for me, the world is simply not black and white, and I'm more than happy to also explore those grey areas. I don't feel like standing in the way of things that just feel right, or perform like you never imagined possible. And thankfully, I've got friends that are as supportive as they are fierce when it comes to providing some feedback on the fruits of those efforts.
Getting the initial idea is easy. Just go out and ride and you'll get impressions all the time. And not long after that, they form a vision for the next creation. It never stops.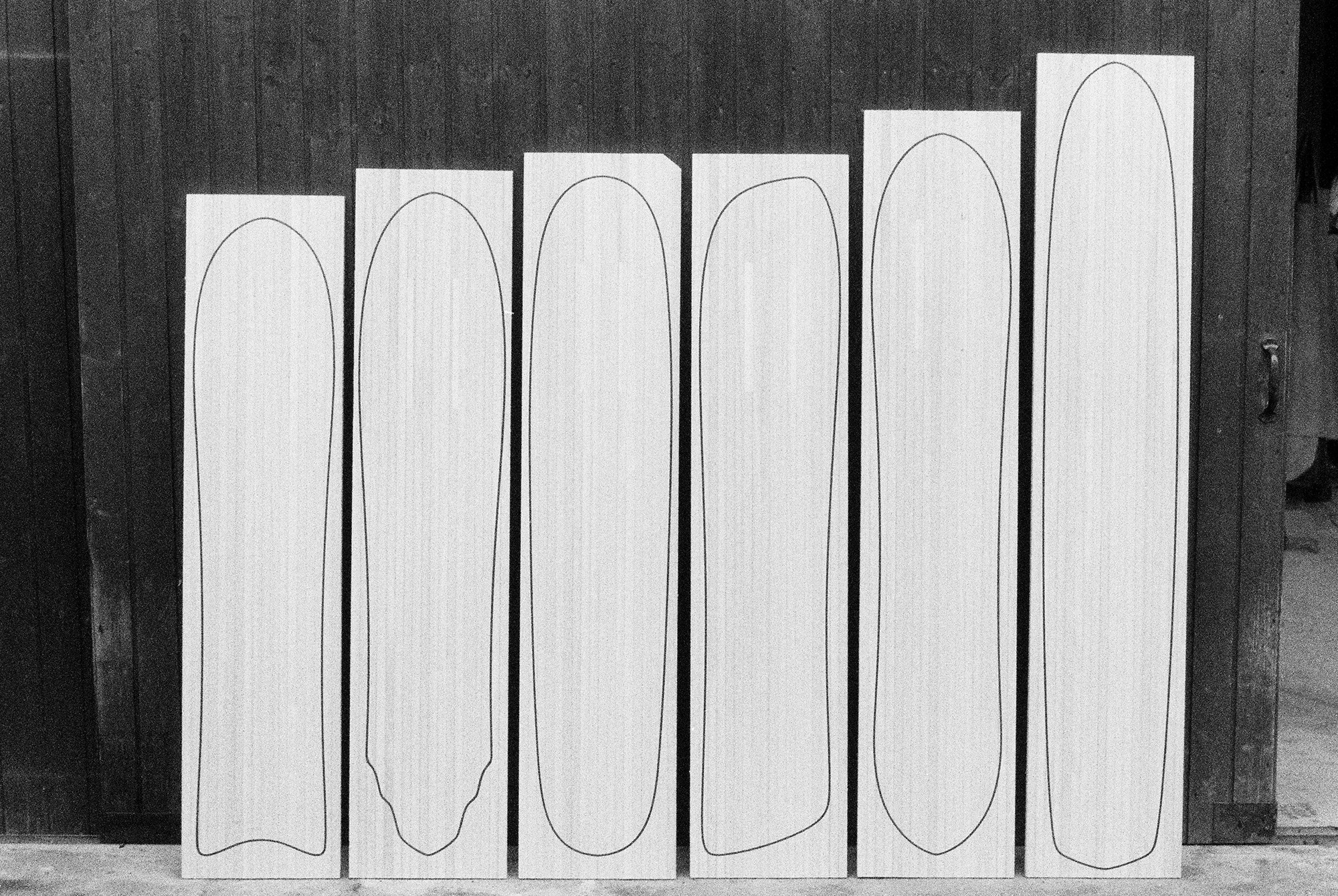 Is there a memorable session you would like to talk about?
There are some special memories. Having just finished my first full on three-dimensional powdersurfer, I went on a five week trip to the remote Svaneti mountain region in the Caucasus with a handful of friends. That trip gave us plenty of time to explore what is possible with such a board. Of course, we found challenges, but no real limitations to this bindingless bliss. Only then, I started to grasp the potential of powdersurfing myself. And on top of that, one evening while strolling back home from some late turns near the village, we even met some powsurfers from Switzerland in this off the map spot. At the time, powdersurfing was still a lot more under the radar, so it was quite a surprise.
Honestly, in the beginning, a lot of friends were quite skeptical about powdersurfing and I had to push them to have a go at it. Because of this, I often witnessed the moments of pure stoke sparked by their first good rides. Seeing that pure stoke first-hand is just as good as it gets! Last year, we had a spontaneous session and suddenly realized that we somehow had nine nationalities fooling around in a small patch of snow. Inspired by this, we did a little bit more math and came to the conclusion that we already had sessions with more than 20 nationalities. I know it's a bit off topic, but when I look at all of the strange things go on in the world constantly, it somehow helps me to keep some belief in humanity alive.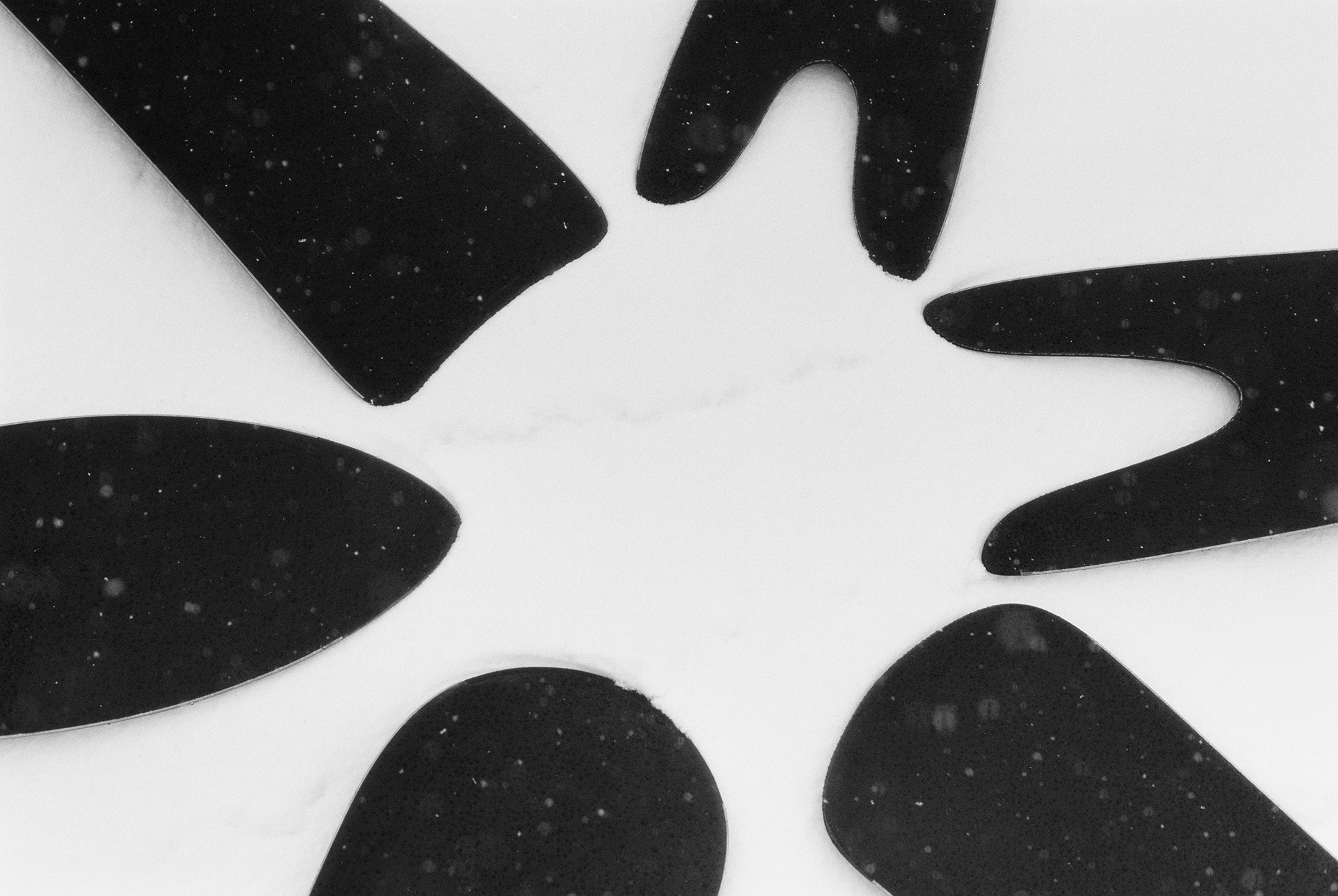 World peace through powsurfing! Speaking of… aren't you working on a movie project?
Yes! A Powdersurfing Exploration is the working title of the project. And this is what we want to do – explore powdersurfing a lot more, with a lot more people.
There are two main aspects that made me start this movie project. First, there are already a lot of good flicks out there showing some really good powsurfing. But a lot of them, including mine, fail to show how this gravity flirting and snow ploughing activity can appeal to a lot more people.
Second, over the years, I have met so many people with very different, but always inspiring and original approaches to the same simple fun. Those individuals are often not the ones seeking the spotlight, but we will let their thoughts and riding shine, nonetheless. Anyway, that's the general plan for the movie. The rest we keep open and look forward to what the winter will bring and what we can make happen.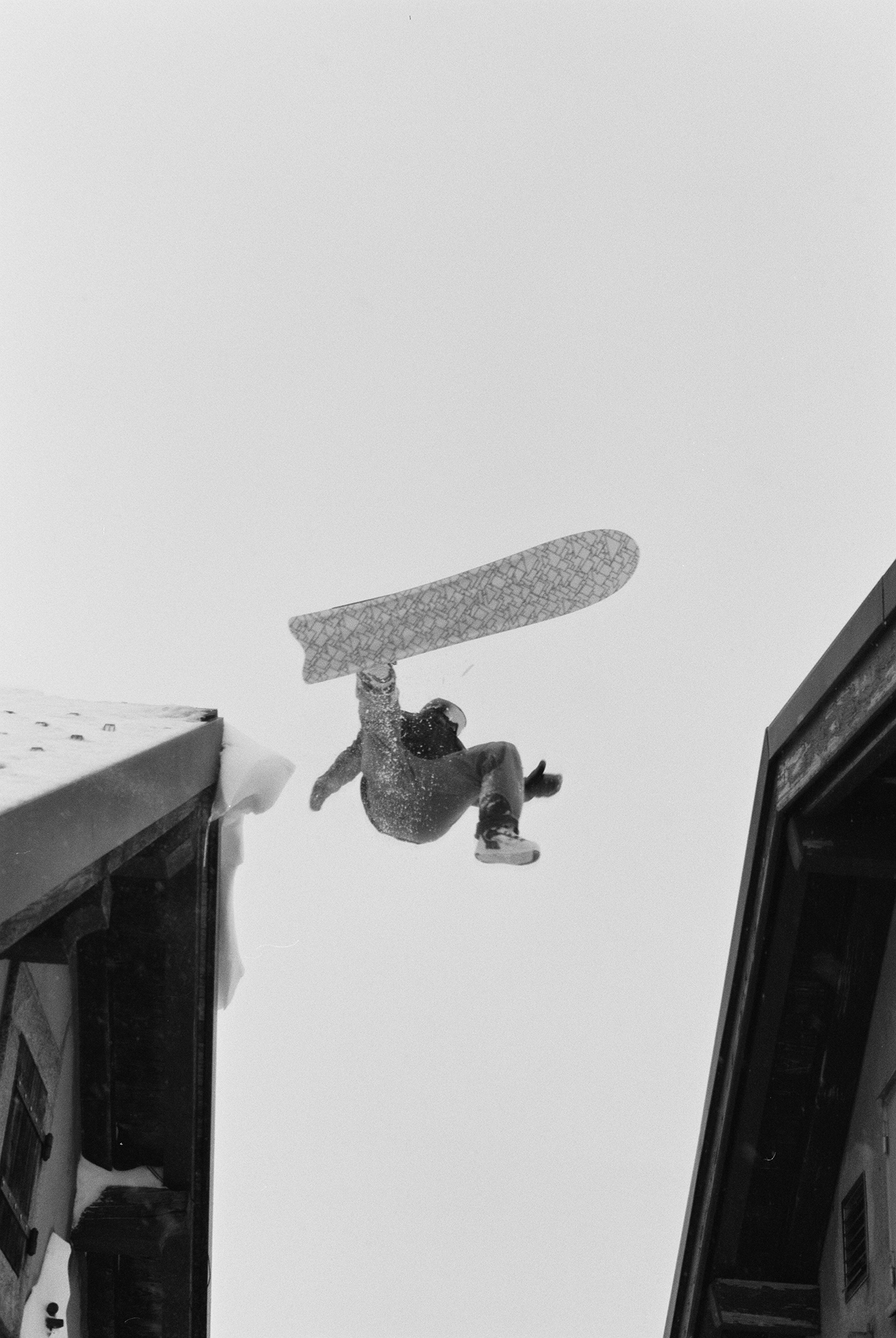 Sounds great! I'm really looking forward to seeing it.
Is there anything you would like to add before we finish this little interview?
It was already quite some palaver, wasn't it? But anyway. All that's left to say is to give attention to what is precious to you, no matter how absurd it might seem to other human beings. Life is precious, let's take risks and chances.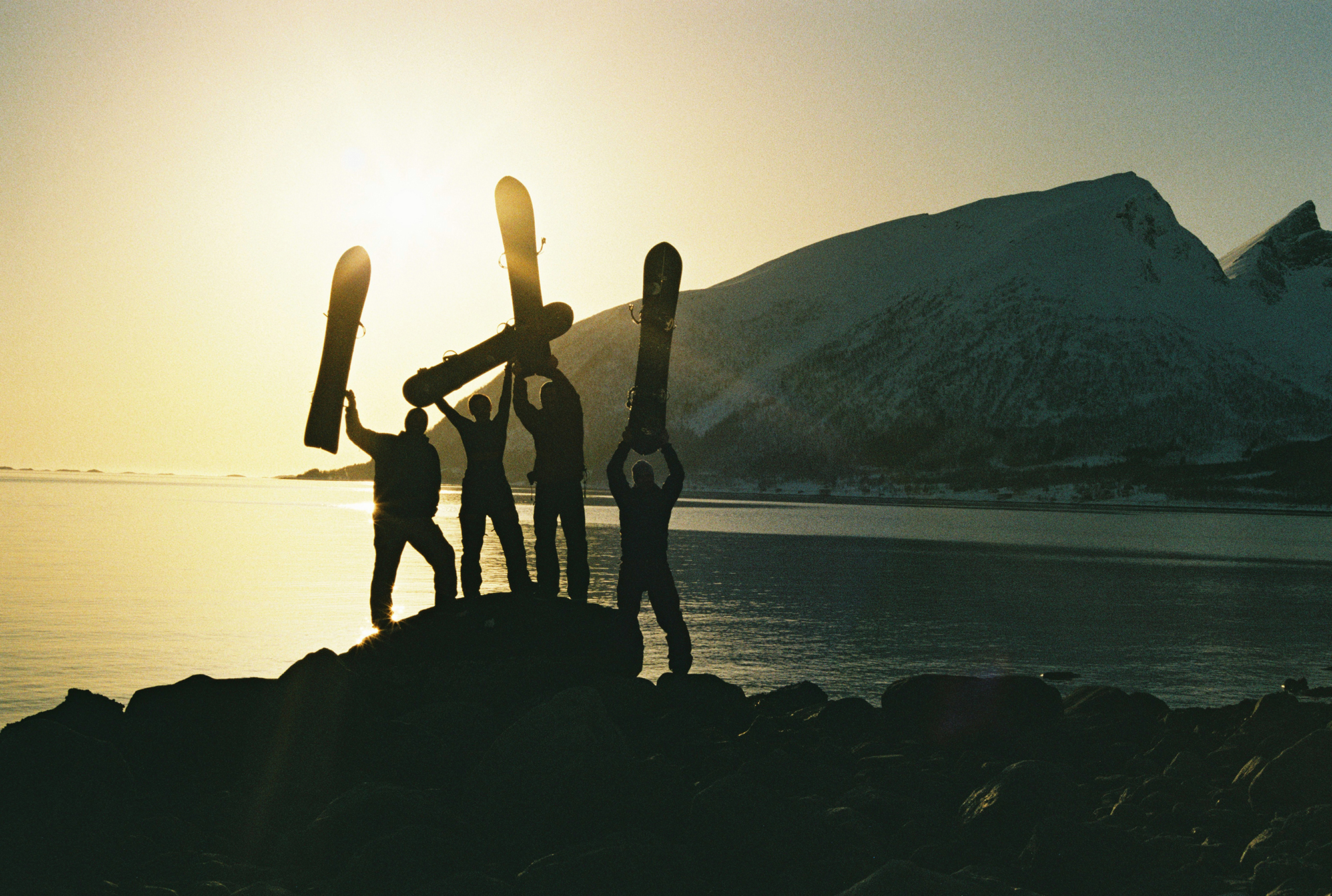 Thanks for answering our questions Ben! I don't really feel like buying bindings anymore now…
If you want to purchase a Konvoi powsurf or snowboard, you can visit their website. Oh, and you can also give them a follow on instagram if you want to keep up to date on their movie project.