Whiteout 50 is in the wild and one of the photos that I've gotten the most questions about was Fredi Kalbermatten's bs 1 over a crevasse in Saas Fee. I caught up with him to get his perspective on the session. Read on for a bit of our conversation and a few unseen photos from an unforgettable session…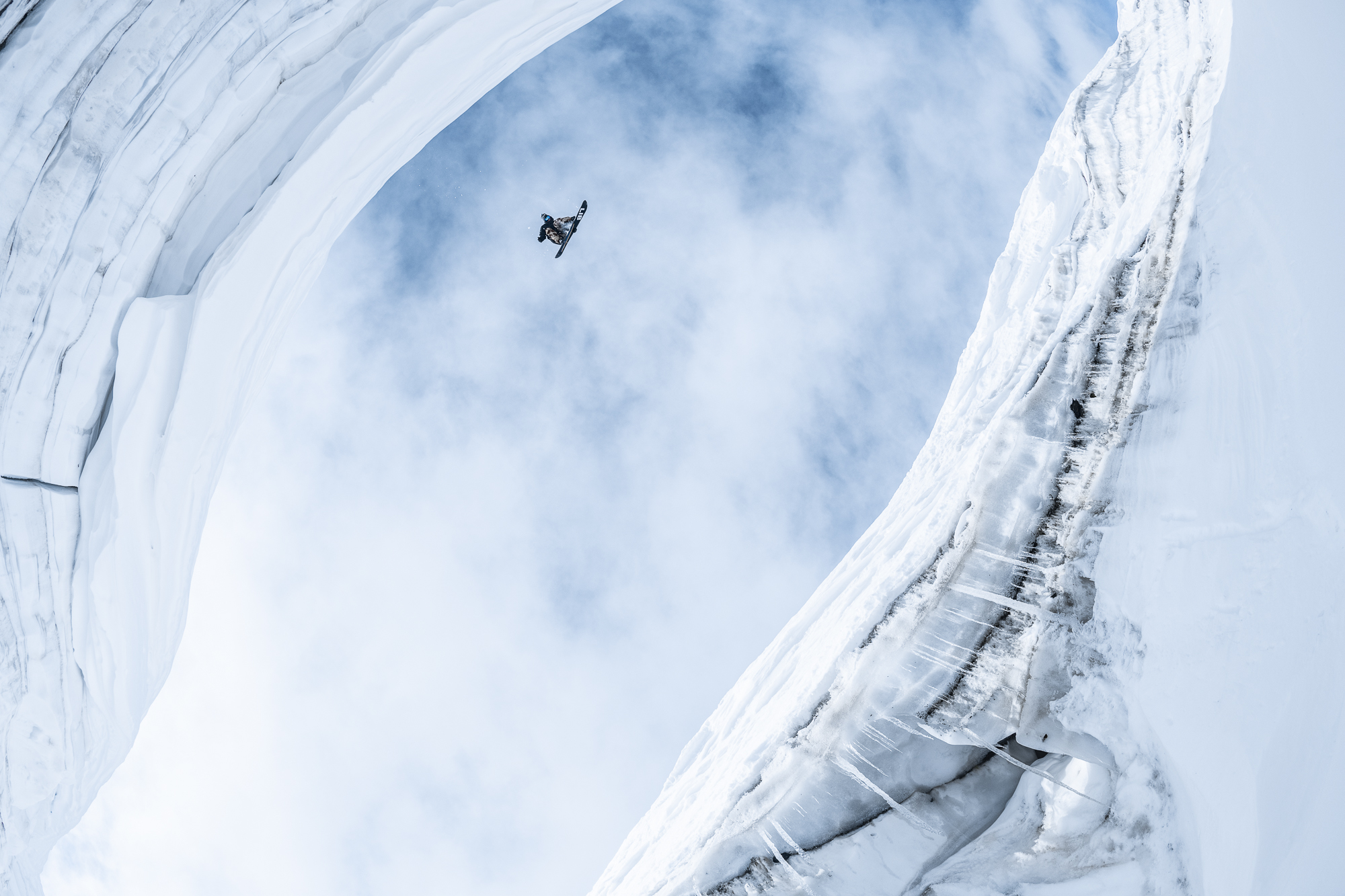 We've shot some wild stuff together in Saas Fee over the past 10 years, but that gap is definitely a highlight for me. Have you ever done anything like that?
The glacier is one of the most special things about Saas Fee, so I am always on the lookout for the ways in which it might form into something shredable. But that is the first time I've ever hit a glacier gap like that.I remember Victor de le Rue asking if there was a gap to hit. Did you already have this one in mind, or did the conditions just happen to line up?
A little bit of both. I had seen this gap the year before and wanted to hit it, but I didn't have any shred buddies who were down for it. When Victor arrived, he was asking me about the glacier and if there were any cool features that we might be able to work with. So it all came together last season and he was the perfect partner for this adventure.
From the images, people might get the impression that you just roll up to a super dangerous spot like that and start sending it. Can you explain some of the safety precautions involved?
I am so glad you asked this question. The glacier can take your life if you aren't careful. It's something that really demands respect. Whenever I do anything on the glacier, I spend a significant amount of time beforehand on ropes and harnesses probing the area to make sure it's safe… especially the area where we will have a little base camp. I recommend that people have a professional guide with them if they are going to be near a glacier.


What kind of gear do you rely on for a mission like this?

These days I'm riding the Jamie Lynn 159 from
Lib Tech
with
Bent Metal
Bindings and the Split BRD 159. I keep my vision clear through the lenses of Zeal Optics. I wish I also had some sponsors for mountaineering gear, and I'll just put it out there that I am available to represent!For a glacier expedition, I always make sure to have a rescue kit on hand, with ice screws and a pulley system in case something goes wrong and you need to lift someone out of a crevasse. In today's era of the drone, it's been really helpful to fly over the area first and just get an extra set of eyes on what you're facing. Petzl offers some really good and affordable rescue kits. I'm not an ambassador for them, but I would like to be. And of course I never go explore the glacier without being on a rope and harness.
What do you like about having a guy like Victor in the crew?
Victor spends a lot of time in Chamonix and in the big mountains, so he knows the risks and dangers and is also more comfortable in the terrain than someone else might be. I feel safe with him, and I feel like we are in the same headspace when it comes to the glacier and the risks involved. I couldn't ask for a better glacier buddy, and we always have a ton of fun and are super productive together.


Before you hit that gap, what did you find scariest about the spot?
Most people think that for a spot like this the big worry is coming up short and tumbling into the crevasse itself. But I was more worried about taking too much speed and completely overshooting the landing and coming up with a harsh impact for my body. Because at a spot like this, you would obviously rather take too much speed than not enough. This was a spot where we really had to be calculated about the perfect amount of speed. Since I'm older, I let Victor go first on this one… I did a cab 5 on my first try, and even though that's a relatively easy trick, I was a little nervous about coming in switch on the takeoff.

In the end it worked out pretty much perfectly. Who landed more tricks, you or Victor?
Yeah, it turned out pretty much perfect, and I landed a total of six tricks, one more than Victor did.


Haha… of course I knew that, but wanted to hear you say it since you called yourself "old". But let's give Victor some love too… What was the craziest trick of the session?
Of course Victor's one foot was pretty rad, but I actually think the craziest was Thomàs, a skier mountain guide who had been watching us all day. He was really helpful throughout the session, even lowering filmers into the crevasse for the last angle. When we were finished with our session, he asked if it was okay for him to hit it and we agreed. He came up short on the landing and just clipped the tip of his skis on the edge of the Gap. He didn't fall into the crevasse but somersaulted down the landing quite a few times. He was all right, but I can imagine that it was pretty scary.

Yeah, that was crazy! I don't know what he was thinking… haha.
What pushes you to keep on snowboarding at such a high level at this point in your career, with three awesome kids and no big pressure from sponsors?

I just really love to snowboard. And living in Saas-Fee, it's so easy, it's not like I need to travel anywhere to get world-class terrain or snow.
I can literally walk out my back door when the conditions are popping and have a soul shred.

What's next for you?
Well, I plan to shred till I'm dead… haha. But I have also been moving more in the direction of professional photography. I've been shooting other Pros, outfitting local chalets with landscapes for their walls, and doing adventure blogs with photos for Saas-Fee tourism. I plan to keep busy while doing the things that I love, which includes time with my family.

Sounds like you've still got your priorities straight! Thanks for your time Fredi. Stoked to see what the glacier provides this season.