Matt Georges is one of the best snowboard photographers of all time. He was the photo editor of Method in the golden years of that mag and then got a dream job as a senior photographer for Onboard and Whitelines. He was at the top of the game until his publisher lost faith in print and killed off around twenty of Europe's most respected mags. Since then, he's persevered, single handedly publishing beautiful books with Vans under the "First Layer" label. The third and final edition is focused on Switzerland, so we thought it was the perfect time to hear his thoughts on our little country, and the future of print. 
Hey Matt, congrats on finishing up another amazing First Layer project. Why did you guys decide on Switzerland as the focus this time around?
Thanks! The first chapter of the First Layer project was shot in Japan, with different crews, mixing backcountry and street. For the second one, we focused on street riders and traveled through Russia. For the last one, we only wanted to shoot backcountry, and Switzerland was obviously our first choice. You have beautiful mountains, hundreds of resorts scattered all around dozens of valleys, three languages with almost three different cultures (French, German & Italian). You have an amazing playground and we almost felt like we were discovering new countries just by spending a few hours on the road. The dream would have been to spend time in every canton, but our priority was to follow the snowstorms and to find good spots to shoot, without going out of the country. Globally, in the tiny snowboard world, Switzerland is a legendary country with riders just as legendary. Your gastronomy probably affected our choice too :)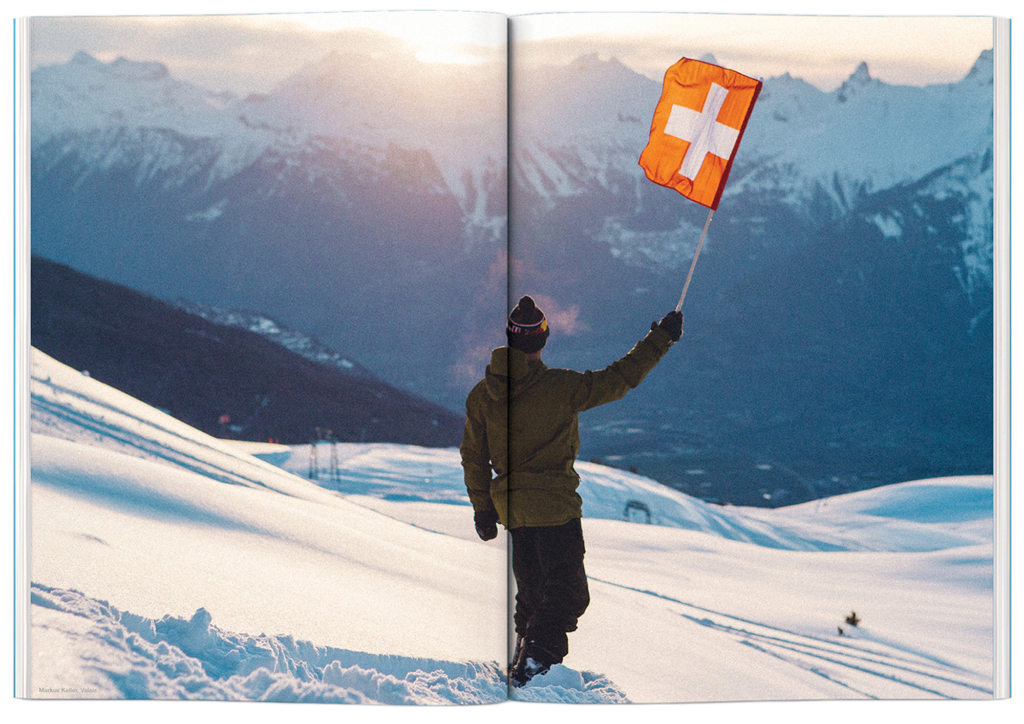 Markus Keller representing Switzerland
I guess you've already spent a lot of time here already over the years. Were there any surprises for you?
The amount of speed cameras near Zurich?
In fact, I spent many winters shooting with a lot of different crews from Switzerland, including Absinthe, Thermos, Homies, What We Want, Ero One, Demonium etc. However, I mostly knew the cantons of Vaud and Valais. I had never really shot in Tessin, the Grisons, around Zurich and other spots in the German-speaking part of Switzerland.
The surprise – which is the same every time – is the number of small resorts, passes, and spots. It feels endless! Going there always reminds me of a conversation between Onboard's bosses and their Swiss photo editor, Pat Vermeulen. They were giving him shit for not traveling enough and always shooting in Switzerland. He just answered, "We have the best riders in the world in the most beautiful spots in the world. Why do you want me to go to places that aren't as good?!"
Oh yes, the surprise was also the price of the ski passes and of life in general. We really do feel a difference between the cantons. But nothing new here, skiing/snowboarding is an activity for privileged people, we aren't gonna lie.
True. Good thing Vans was paying your expenses this time around! 
What's your favorite resort here?
Good try with your trick question! You wanted to test my loyalty, or maybe you want my family to get their throat slit from one generation to the next for revealing the names of the spots? Ask Mat Schaer, he'll give the GPS coordinates of every jump haha.
But I was blown away by the Furka Pass. It was amazing to drive around, so I stopped to take some drone shots. It would definitely be worth it to camp there for a few days and explore all around.
Is it true that Arthur drank gas while he was here?
Oh yes, poor Arthur, he had a really bad time and we all were pretty afraid! We were shaping a kicker around St Moritz and we wanted to make a fire after the session. Despite the sun, the temperature was really low – around -20°. After his first try, Arthur came to the take off to watch the footage and he was so thirsty that he opened a random backpack, took the first water bottle he found and drank several big sips. Unfortunately it was gas! All the crew yelled at him to throw up immediately, while we were calling the poison control center in France. Luckily, we had a little bit of service, which is pretty unusual in the backcountry. At this moment, the guy on the other end of the phone warns us to not make him throw up because it can be fatal… So we start yelling again, telling him to stop puking immediately. The risk is that if it goes up the trachea at the time of reflux, the gas can go into the lungs and the outcome can be lethal!
Of course, as a French guy, Arthur loves smoking cigarettes and drinking coffee, which was impossible during the next two days.
He spent all his time burping gas and stinking up the whole place!
We all worried a lot but in the end, everything worked out. The next day, he was already shaping a kicker on a huge gap, with a really shitty in-run. No one wanted to try it! He tried it twice, and every time he landed he was burping gas. But it was worth it. That shot got him on the cover of Snowboarder in the US! Congrats Arthur!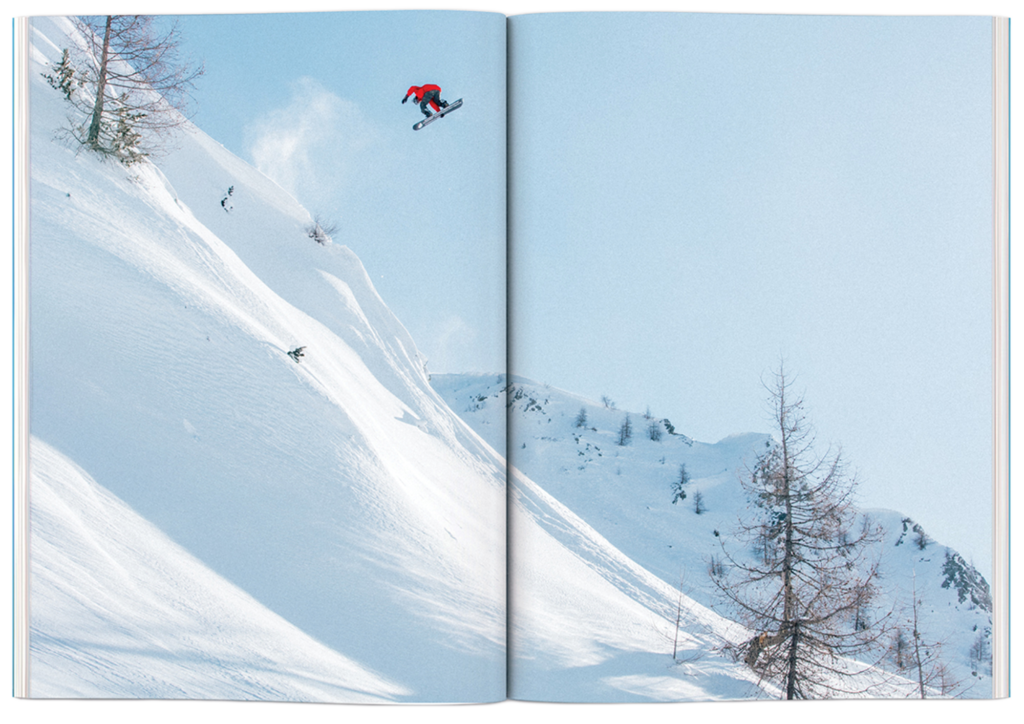 Arthur Longo burping gas & style
He deserves it! But how about some Swiss guys? Other than Markus Keller, who's got some great shots in the First Layer series, who's your all time favorite Swiss guy to shoot with?
That's a tough question ! Shooting with Romain, Markus, Fredi and Darius has always been an honor for me, because they are snowboard legends, but a guy with whom I am sure to have sick shots, who is always motivated, who rides big and strong, and more importantly who lands everything, is Mat Schaer. He is so underrated! When the American guys from Absinthe come to Europe, they are always blown away!
Otherwise, I also like to shoot with the famous Yung Doli, with his gangster gypsy pop music love style!
He's certainly one of a kind… 
You mentioned that this will be the last First Layer project for you. What's next? Are you finally giving up on print to focus on becoming a full time #influencer?
Of course! I will launch my blog and contact all the luxury hotels to go to the spa for free with my girlfriend. In exchange, of course, I'll tag them on my selfie, which will make them world famous.
#wokeuplikethis #roomwithaview #gofuckyourself
No seriously, I will never give up on print. It's a medium that I like very much. So yes indeed, with Vans, this is the last project called First Layer, we want to do something else. Still print, but with a different format and concept. We are working on it and refining it. I can already tell you that it will be a triple concept with a focus on three riders from the team, each one with a strong personality. Stay tuned, as they say in French rap!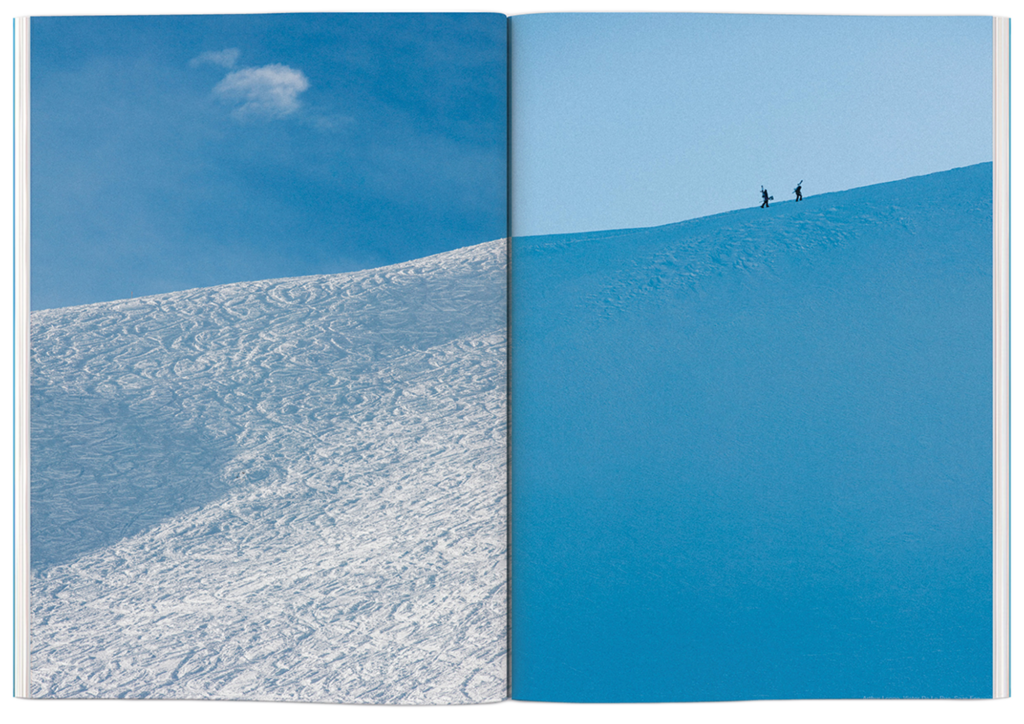 #printisawesome
It's been a while since the whole Onboard thing fell apart. And now it appears that their digital dream is over too. How do you feel about that whole thing when you look back at it now?
It was pretty painful to see such a legendary magazine leave, to reduce it to a website, then finally to nothing. We could have continued to do nice things, by reviewing the formula, the paper and the design. But sometimes you run into closed doors and people who don't get it. Nevertheless I am really grateful to all the Onboard crew for having opened the doors to me as a Senior Photographer about ten years ago. It was crazy for me, a young photographer, to be on the same team as Pat Vermeulen, Scalp, Peter Lundstrom, and then also to join the Whitelines crew. You had to learn a lot about photographic production and story telling. It was a really great school with total freedom.
In general, do you feel like snowboard media is in a better or worse place than it was ten years ago? 
Definitely at the worst place I've seen since I started. Of course, the golden age of snowboarding is now two decades old, but there have been so many changes since then. I just think that the, "Crappy Paper, Ads in the Middle of Nice Portfolios, Redundancy of articles" format is running out and that sometimes it's better to do a little less and just focus on quality. Especially with the internet and social medias that also require an increased presence. But with these changes there are also great independent projects that have come together and mags that have reinvented themselves. Of course, we are a long way from the days when there were about 20 magazines in Europe, but that's life – nothing is forever, and we have to constantly question ourselves – as cheesy as that may sound.
It's great that you've found ways to keep high quality print alive. Why do you feel that the format is still important?
I don't really have an explanation. I'm afraid I'll sound like an old fool! It shocks me when sometimes I go to someone's house and I don't see books anywhere. No library or anything. So maybe it's my generation that gives me that feeling, that the younger generation today doesn't care about this pseudo-nostalgia. Of course, sometimes the pictures come out better on a super bright HD screen than on glossy paper, but for me nothing will match the printed object. Its feel, format, choice of cover, rhythm, design, typography, paper and its binding. It's nice to have something in your hands, something tangible. Something you can look at year after year and grow old with you.
I couldn't agree more… Any last words?
A huge thanks to Vans for trusting me and giving me so much freedom. And thanks to you Ahriel for the amazing mag you do. You are one of the people who pushes snowboarding in the right direction.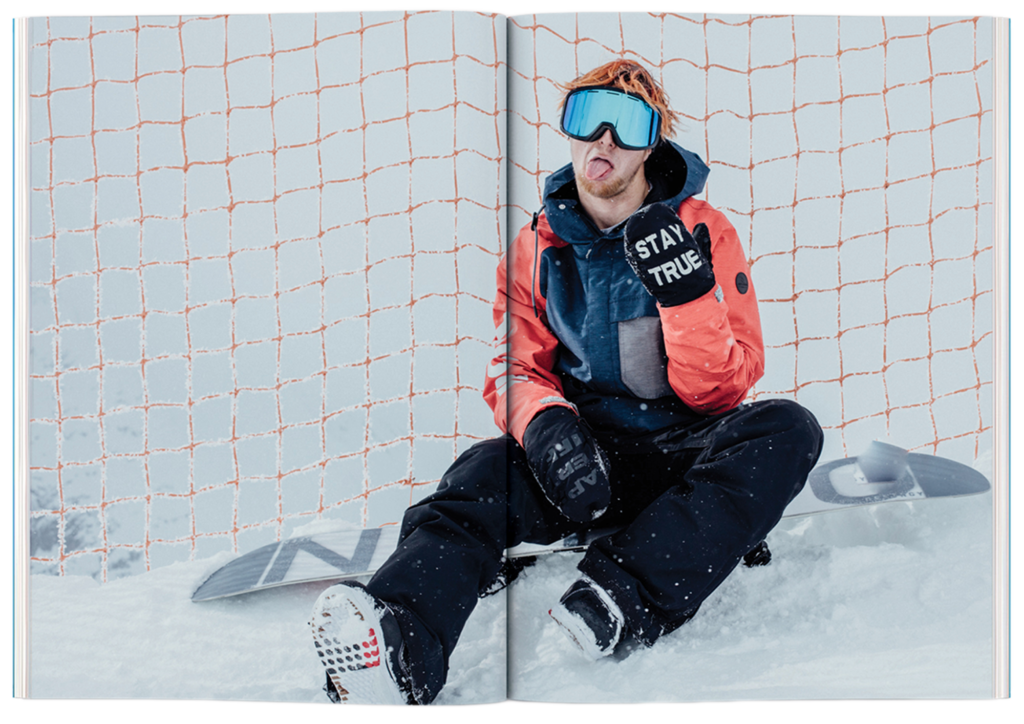 Nils Ardvidsson staying true