After two trips to the Olympics, and plenty of success in competitions around the globe, you could consider Elena Koenz a seasoned veteran. But don't expect her to start talking about retirement anytime soon. As she moves away from competition, towards more creative adventures, she's enjoying life as a rookie all over again. Check out her first short movie and read on for her thoughts on returning home to film for "A Chasa"… 
"This year was awesome for riding powder in Switzerland. The best thing about it was that I didn't have to fly anywhere to find good pow. I could basically stay at home and let the nature do its work. As I stopped riding competitions after the Olympics last winter, I could enjoy the pow to the fullest without having thoughts on missing out trainings or competitions.
We had some awesome days in my hometown over Christmas where we could ride powder everyday in my home ski resort Scuol or touring near by.
I grew up in Vnà, a small village in the mountains of Switzerland. The village has 60 habitants, so I know everyone by name. Some of the houses are empty and the village was our playground when we were kids. This is when I had first thoughts about doing a film project in the village where I grew up. When PeakFrames asked me if I would like to do a film project with them, I had a plan.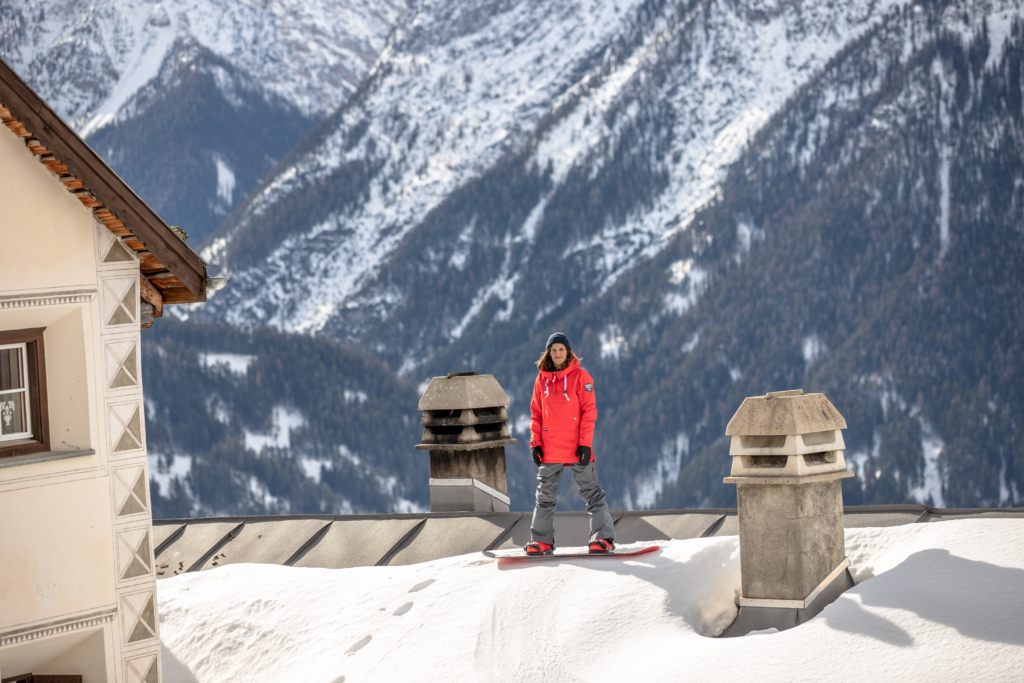 Unfortunately, most snow in the village had already melted by the time we started filming. As we still wanted to make something happen there, we had the idea to drop from a roof because there was still some snow up there. After the post man drove over the landing with his car two times, our friendly neighbor let me climb up the roof and get the shot.
The first two days filming in my hometown where pretty intense. We did two other spots nearby and one turned out to be a lot of fun as I could ride it first as a quarter and then as a jump where I did a backside air.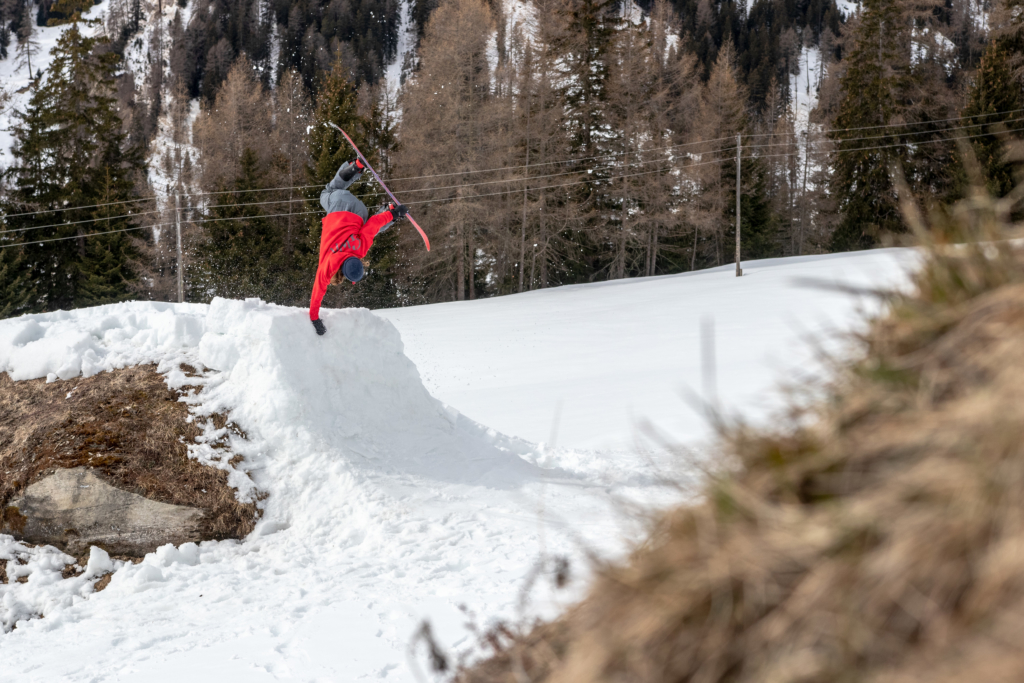 A week later we got lucky as it snowed again. My friends Isabel Derungs and Irene Schweizer joined me for one of the most fun powder days in my home ski resort Scuol. We did some hikes to find untracked snow where we could film some sprays, turns and butters.
The day after we decided to do a backcountry jump. We didn't have too much time as the bad weather and fog came in quickly. It was the last short window of light when I decided to do a backflip. I landed the backflip far down the landing with the last bit of sunlight. Afterwards it got so foggy that we decided to leave the spot.
It was a really good experience and so much fun to film with PeakFrames, Isabel Derungs and Irene Schweizer. A huge thanks to everyone involved and to everyone supporting and believing in us."
Thanks to Elena for her insights and PeakFrames for the photos! We're excited to see what comes next.