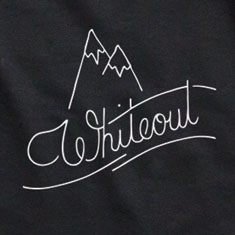 Whiteout x Aaron Short Sleeve
Earth positive and fair trade T-Shirt hand screened by snowboarders in Interlaken. Now available in short sleeves.
About the designer:
Aaron Schwartz was one of the first names that came up when we started kicking around the idea of inviting guest artists to add their flavor to some shirts. Loyal readers will recognize him as the skilled photographer who has delivered our stories from the Burton European Open for many years. But Aaron's talent goes far beyond photography. He's a true artist with a passion for hand drawn type that is matched only by his love for the mountains.
Aaron's no pro, but he's been snowboarding nearly all his life. When he's not dropping pillows in the Laax backcountry or doing laps in the P60 park, he's most likely helping out at his local shred shop or traveling to his home away from home in Vancouver. Aaron's artwork can be found on everything from snowboards to t-shirts to films… and now he's got his very own shirt.
We decided to use the logo from one of his classic stories, "Build It & They Will Come" which captures the spirit of one of the things we love about snowboarding. Whether you're building a massive backcountry booter or a small backyard mini-shred, that simple act of shoveling is sure to attract more friends. And whenever you've got a crew together working towards a shared goal, you've got the makings of a good time.
Only logged in customers who have purchased this product may leave a review.