After a year off due to injuries and Covid complications, the LÄSSIX crew is back with their new movie STOKED N'BROKE. Watch it here and then keep on scrolling for an interview with one of our favorite new riders, the king of stoke, Mr. Adrian Häfliger.
Hey Adrian, nice to see you back in action for STOKED'N BROKE! Can you introduce yourself for the people that don't know you?
Yeah! Hello merci & thank you for your awesome work with the magazine! I really love the mag, soo stoked!
I'm a Swiss snowboarder/skater for life, thank god ;)  26 years young and born and raised in Weesen, St. Gallen. I just love snowboarding & skating like we all do. To get throughout the summertime, I go hiking, jogging, biking, trampoline jumping and downhill skating… and of course, I also do a lot of work to save money for the winter.
Seems like you bounced back pretty well from your knee injury two years ago. How was that process?
Ouh yeah I'm so grateful and blessed how the whole situation worked out.
So, it was the 21 of February 2020 and there was fresh snow!!! Circa 15 – 20cm – enough to get my juiced up. I was shredding my home resort, Flumserberg like a maniac since the lifts where running. Shortly before 12 am, me and some dudes, went into the woods to drop a little cliff like 2.5 – 3 meters. I stood on top waiting for the guys, looked down the landing and saw this dead tree. Despite having a weird feeling, I dropped the cliff and for some reason I didn't land it. I tumbled down the landing and thinking the whole time about this fucking tree. I hooked on it with my left knee and the board got blocked in the snow and the rest of me was still tumbling. Then I heard pop, pop, pop as I stopped. I pulled myself up and unstrapped my board, lifted my left leg and it just went without resistance in a weird angle. That's when I realized that I was fucked and started screaming. Not because of pain, but rather of frustration. I knew something was very wrong.
My friends helped me to get out of the woods. It took 1/2 an hour. I was laying on my board and they stabilized me on the ride down while I cursed loudly xD  One dude drove me to the hospital. But the doctors there really sucked. They just gave my crutches and just said, "yeah there is something wrong, but we don't see anything on the x-ray". These fuckers just let me go and they didn't even give me painkillers. I got out of the hospital with my board strapped to the backpack, limping around on crutches. Luckily, my brother was already on the way to pick me up. In the meantime, I smoked a big one to kill the pain:)
I waited one week for an appointment with the radiologist and another two weeks for the results. They told me over the phone that I tore both cruciate ligaments and the outer ligament. I was so bummed.
Then the corona virus arrived. My surgery was not relevant (life threatening) so I had to wait three more months, which bummed me out even more. I could walk already before my surgery. Crazy how the body works. For my surgery I went to a friend's special clinic for joints. He did an unbelievable job with the surgery. So thankful for him and everybody else who helped out.
A fun story from the clinic: I always sneaked out for a smoke on the terrace. One morning, I was out on the terrace and an old man came out with some beers and handed me one — Not a good idea when you're on weed and painkillers xD I slept out there the whole day and got a really bad sunburn.
Haha… amazing. And it's so good that you had a full recovery and are riding better than ever now…
So at this point, are you more stoked or broke?
I am always stoked! I mean how can somebody not be stoked? The season just started and it's Jonas Gasser's first fully free winter, so that's a stoke! My brother is also ready to shred, and so is Michi! So, the stoke level is through the roof. But the season is long, so the broke part usually comes with the first flowers.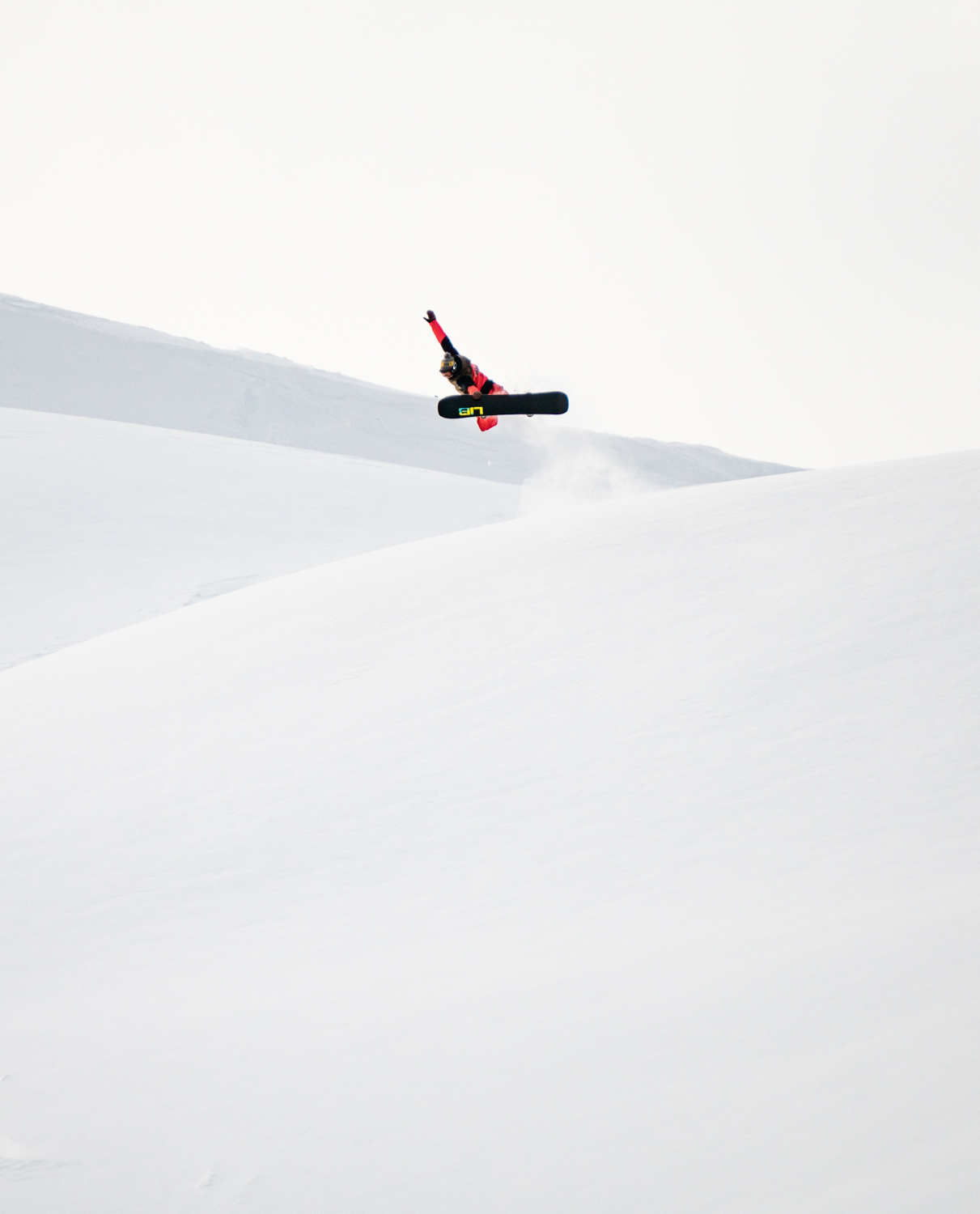 Any funny stories from last season that you can share?
There are so many funny stories… from blowing car engines, to first pow surf experiences, the first split-board-tours, broken boards, broken teeth, a knock-out at the banked slalom in Laax, my first teaching experiences at a school camp, freezing nights in the car, deep powder days all alone… there was everything a snowboarder needs and wants.
But to pick one, there was a day… a really special day. It snowed a lot over night and the following day we were just shredding and the crew got bigger and bigger and bigger. At some point the group size was about 15-17 people. It was pretty unusual because some of the people don't like each other or only ride in their own little crews. But this day everybody got along, had fun together joking around and shredded pow. It was like a dream because for me, this is what it's all about.
So true. World peace can surely be achieved through pow days… haha.
What are you plans for this season?
To get as stoked as possible, duuuuude! Make a better video part, get some good photos and make some little events. The LÄSSIX Crew will organize a few races and jams. I also want to discover some new parts of snowboarding and the nature behind it. The plan is to do an entire winter without any Co2 pollution. So I have to try some things this season to see if it could work. I just want to figure out how I can make this possible and enjoy the winter, and life in general, with the people I love.
And of course…. shred and shred and shred and shred!
Sounds like a great plan! Any last words?
Thank you! Keep snowboarding, be respectful and spray some skiers.